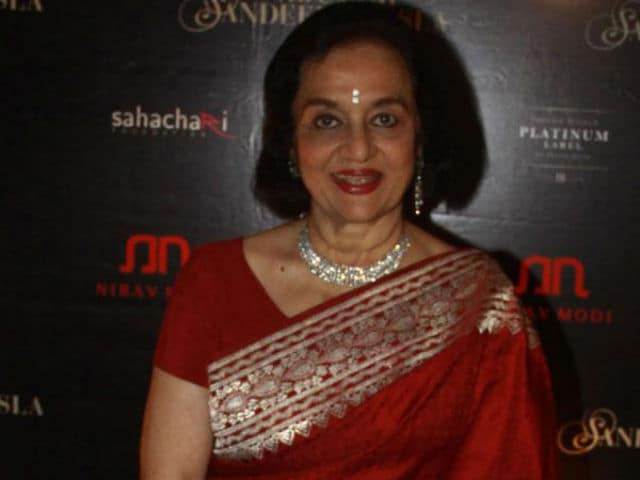 Highlights
Asha Parekh says she is 'happy to be alive'
Asha Parekh's autobiography The Hit Girl came out this year
"I am thankful for what life has given me," says Ms Parekh
New Delhi:
Former Actress Asha Parekh, who celebrated her 75th birthday on October 2, says that she doesn't feel her age at all, reports news agency IANS. Ms Parekh also says that she is happy to share her birthday with Mahatma Gandhi on October 2 but there is a drawback too. "Every birthday of mine is a dry day. So my friends never get to toast my health and wellbeing with a glass of wine... aah, never mind. I am happy to be alive, well, healthy and still not pushed into oblivion, as many of my colleagues are," IANS quoted Asha Parekh as saying.
2017 has been particularly an eventful year for Ms Parekh with her new autobiography
The Hit Girl
, which reveals details of her relationship with filmmaker Nasir Hussain. Of her autobiography, Asha Parekh told IANS: "That's right. My memoirs
The Hit Girl
came out. I was apprehensive that it may hurt some. But I was determined to tell the truth. Or else, no point in writing about your life. My co-author Khalid Mohamed and I were very careful about the lives that were touched in my memoirs."
Ms Parekh and Nasir Hussain collaborated on seven hit films. Of these, he directed six, including
Dil Deke Dekho
,
Pyar Ka Mausam
and
Caravan
and produced one,
Teesri Manzil
. Nasir Hussain died in 2002. His romance with Asha Parekh was the stuff of Bollywood legend but, the film fraternity never talked about it until Ms Parekh's autobiography
The Hit Girl
.
When Ms Parekh was asked if her
autobiography left any negative impac
t on Nasir Hussain's family, she said, "None at all. I didn't expect there would be. When I was so careful not to hurt his family during our relationship,
why would I cause them any hurt now?
Nasir
saab
's family has always been close to my heart. I never even thought of hurting them. They all respect me. In fact, (Nasir Hussain's nephew) actor Aamir Khan is always very respectful and affectionate," reports IANS.
In 2017, Asha Parekh's dream project - hospital for the poor was shut down. Of this she told IANS: "This is not the first time we've had to close down the hospital. It had been closed in 2007. Now ten years later it looks like it's going to be taken over by a hospital chain. My hospital will now be turned into a 5-star health facility. That means the facilities will no longer be available to the poor and the underprivileged."
She added, "Poor people die due to medical negligence. The government hospitals are overcrowded and understaffed. That's why I ran this no-profit hospital for the poor. It was my parents' dream that I tend to the poor. Alas, the dream has ended," reports IANS.
Asha Parekh , who made her debut in Bollywood with the film
Aasmaan
, is also known for films like
Do Badan
,
Upkar
and
Caravan
.
Asha Parekh says that she is thankful for what life has given her. "I am still around and healthy. I had a great innings. I was called the 'hit girl' because of the success ratio of my films. I don't know how so many hits happened in my career. "It was God's blessings, I guess and my parents' good wishes. I just wish when I go I go without pain and people will remember me as a nice girl."
(With inputs from IANS)