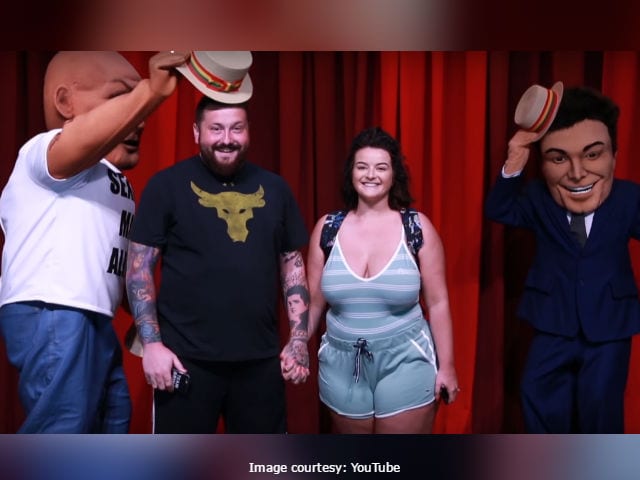 Highlights
The Rock and Jimmy Fallon photobombed tourists
Tourists were surprised when the real Rock and Jimmy revealed themselves
A fan was in tears after seeing his real life hero
New Delhi:
Ever imagined how it would have been, had the man you idolised since you were five years old, was in front of you, all of a sudden? This is exactly what happened when a tourist at the Universal Studios got a chance to live his dream of meeting his "man, his hero since he was five years old," Dwayne The Rock Johnson. As a part of Jimmy Fallon's show
Tonight Show
, Dwayne Johnson and the host suited up as mascots of themselves for some epic photobombing. Tourists who posed for pictures were sweetly surprised when the real Rock and Fallon popped out of the suits. But, the touching moment was when a fan of Rock was in tears to see "his man and his hero" for real.
Watch how Dwayne Johnson and Jimmy Fallon made their fans' day:
Jimmy and The Rock were up for some fun for the
Tonight Show
at the Universal Studios. No way to tell that they were the real Jimmy and Dwayne underneath the mascot suits, the duo had a blast, photobombing tourists at the official ride photos section. As they revealed themselves, some were taken aback, some jumped with joy. The real surprise was when a fan was in tears, to see "his hero" The Rock come out of the mascot suit. It was when Dwayne said, "No tears," that the fan revealed a huge tattoo of his hero he had on his leg, and how much the WWE champ meant to him.
Dwayne will next be seen in Baywatch
, directed by Seth Gordon. The film also stars Priyanka Chopra and Zac Efron. This will be Priyanka's Hollywood debut.