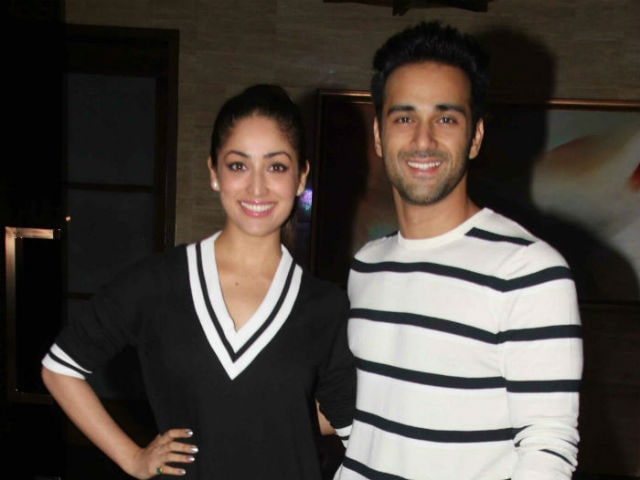 New Delhi:
Actor Pulkit Samrat said that romantic films are a glorified version of real life romance.
"I don't think that there is anything unreal when it comes to romance onscreen. It's just a little more glorifying. But whatever you feel in real life about love, is just what we try to show on the silver screen as well," Pulkit told IANS.
"When you fall in love, you genuinely hear violin being played in the background. You genuinely feel that clouds are bursting and you look at every small thing as really beautiful. That's exactly what we try to show in films. I think they (romantic films) are just a glorified extension of real life. It's not exactly unreal. Rather I would call them surreal," added Pulkit.
Pulkit, who made his debut with
Fukrey
, was recently seen in Divya Khosla Kumar's
Sanam Re
co-starring Yami Gautam. (Also Read:
Pulkit Samrat on Separation From Wife Shweta: No Third Person Involved
)
"I always wanted to become an actor. I just followed the passion step after step. I have always remained stubborn about my work," added Pulkit.
But he has never tried to set up a particular image for himself onscreen, he said.
"I don't wish to set up a specific image. I just want to work. I always work with a hope that people will like it. I just try to do something different every time. I feel lucky that right now I'm in a place where I can explore a lot of genres and after some time I'll understand what type I can do better," he said.
About
Sanam Re
, Pulkit said: "It's a love story. And who doesn't want to do a love story? I think your entire filmography is incomplete without a love story. I have grown up watching these films. Like a guy running around the trees, singing for a girl or riding a horse, these are the ideas for men that have been glorified through films. So, it's exciting to be a part of a film like that."
Pulkit's chemistry with his co-star Yami Gautam is being talked about much in public.
"If people are praising our chemistry today, it's really because how Divya shot it and showed us onscreen," he said.
When Pulkit was asked whether they have taken any inspiration from iconic Bollywood couples, he said: "No. I don't think we ever tried to enact somebody else."
"It's because if we would have done so, people wouldn't have seen the genuine Aakash and Shruti (their characters in the film). If we start with a benchmark here, feeling that, yes we should look like some other couple, then our work won't look good. It will be more of a shadow of the reference we are taking from. That's not the correct way to approach your character," added Pulkit.
Sanam Re
released on February 12.