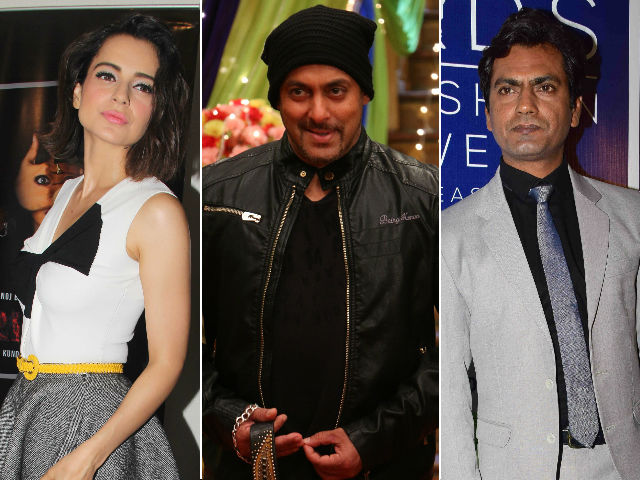 Highlights
Nawazuddin says there's no point taking this discussion forward
Kangana says that it's disgraceful for society, not an individual
Sona Mohapatra slammed Salman's supporters in a tweet
New Delhi:
Actor Salman Khan's remark comparing himself to a 'raped woman' after filming Sultan has mostly been received by Bollywood in stony silence. Only a small handful of his industry colleagues have offered a comment and of those, almost nobody has contributed to the outrage and anger that has flooded social media. Salman's fellow Khans and other A-listers have held their peace. Among those who have spoken up are actors Kangana Ranaut and Nawazuddin Siddiqui and director Anurag Kashyap.
Kangana, 29,
told the press
in Mumbai on Wednesday, "We all agree that it is a horrible thing to say. It's something which is extremely insensitive." She qualified her condemnation by adding, I would like to say that let's not encourage that mentality where you point fingers at each other and want to feel greater by pulling them down and rolling people down. As a society, we have to take responsibility and stand united. And it is disgraceful for the society, not an individual. We all collectively feel sorry for that thought process."
Nawazuddin Siddiqui, who co-starred with Salman in last year's blockbuster
Bajrangi Bhaijaan
,
excused the actor by saying
, "He used the comment metaphorically. The discussions over it are over and there is no point in repeating it and asking questions about it. The intention has to be considered."
Anurag Kashyap
, who directs Nawaz in this week's
Raman Raghav 2.0
, pointed out that the journalists present when Salman Khan said what he did laughed: "Why are we making it out his individual responsibility? It is very unfortunate that he made an analogy like that. It is very thoughtless of him, in a way daft of him. I am sure he will be regretting it and will apologise for it. If he really cares, he should apologise for it. But does the responsibility lie alone with him? The guy who was interviewing him? When the man gives an analogy like this, he laughs at it. He does not question him. In his mind, he is thinking I have got a headline. How irresponsible it is to make that into a headline. I would have taken that out. It does not send a great signal. It empowers misogyny. Suddenly, people have got an issue to jump on."
Salman's
Yuvraaj
director Subhash Ghai told the press that nobody respected women more than the actor. He also wrote on Facebook:
Pooja Bedi, an alumnus of the Salman-hosted
Bigg Boss
, was
attacked online for this series of tweets
:
Is @BeingSalmanKhan controversy justified? If I say I fee FAT as an elephant will @PetaIndia file a case? is India getting OVERSENSITIVE?

— Pooja Bedi (@poojabeditweets) June 21, 2016
If @BeingSalmanKhan's intention was 2 use the term rape to describe something that shatters someone physically and emotionally, is it wrong?

— Pooja Bedi (@poojabeditweets) June 21, 2016
agreed it's not the best simili, but if 2 @BeingSalmanKhan rape is the most brutal physical experience anyone could experience, is he wrong?

— Pooja Bedi (@poojabeditweets) June 21, 2016
As educated & sensible people we need 2 calmly see how much of this "protest" against @BeingSalmanKhan is for political gain&Media TRP!

— Pooja Bedi (@poojabeditweets) June 21, 2016
if @BeingSalmanKhan is wrong then words like mad/retarded/strangled/murdered/crazy should all be considered "POLITICALLY INCORRECT" to use.

— Pooja Bedi (@poojabeditweets) June 22, 2016
Like Pooja's 'fat as an elephant' analogy, Salman's brother Arbaaz Khan offered one of his own that compounded the insensitivity of the actor's comment: "There are some things which we say while talking but we should look at the intention - why was it said? I definitely have no doubt that whatever Salman said, the intention was not wrong. It was just the kind of (statement) where we compare things - 'I worked like a donkey' so now people will say you used the word donkey so some animal activist will come after you."
Also like Pooja, Arbaaz suggested people were overreacting and that Salman would apologise only if he felt the need to: "Sometimes you say something out of context, your intention is not wrong but if you de-sensitise it and become over-sensitive about it, then you can create an issue over anything. I am sure Salman must have realised the comparison he did was not appropriate and for that, if he feels he needs to apologise, he will apologise. If he has said it by mistake, maybe he should probably give a justification. But I don't think I am entitled to make a comment and say 'he has to apologise.' I would hope that he gives a clarification because a controversy has been created. So
jawaab dena banta hai
, because people look up to him, he has got a lot of following, he is a youth icon."
The only real apology from the Khans has come from Salman's father, Salim Khan:
Undoubtedly what Salman said is wrong, the simili, example and the context. The intention was not wrong.

— Salim Khan (@luvsalimkhan) June 21, 2016
Nevertheless I apologise on behalf of his family his fans & his friends. Forgiveness is to pardon the unpardonable or it is no virtue at all

— Salim Khan (@luvsalimkhan) June 21, 2016
To err is human to forgive divine. Today on Intl yoga day lets not run our shops on this mistake.

— Salim Khan (@luvsalimkhan) June 21, 2016
A lone industry voice criticizing Salman Khan was trolled. Singer Sona Mohapatra tweeted:
Women thrashed,people run over,wild life massacred & yet #hero of the nation.'Unfair'.India full of such supporters pic.twitter.com/qrNkBZCWT1

— #SonaLIVE (@sonamohapatra) June 21, 2016
This earned her the abuse of an army of Salman fans, who had trended the hashtag #SalmanMisquoted on Tuesday.
Salman Khan, who plays a Haryanvi wrestler in Eid offering
Sultan
,
said
at a press meet last weekend: "When I used to walk out of the ring, after the shoot, I used to feel like a raped woman. I couldn't walk straight."
Here's an audio recording of the interview - the 'raped woman' comment appears at 4.03. Later, Salman Khan also refers to women as a 'vice.'