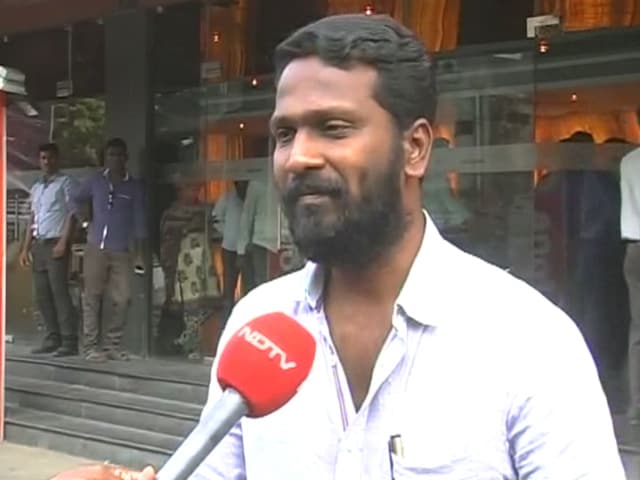 New Delhi:
Tamil drama
Visaranai
, which released on February 5, had a grand Friday opening with more than 200 theatres reporting a sell-out for the weekend.
The film has received good reviews nor just from critics but also from South stars Rajinikanth and Kamal Haasan. In an exclusive chat with NDTV on Friday, director Vetrimaaran explained just what made his film special.
The five-time National Award-winner said that
Visaranai
is "not a usual boy-girl story or a hero villain story. It doesn't have much music. It is an intense film, and we have been telling this throughout that it's not for the weak-hearted."
"And still people wanted to watch a film like this. So I'm really happy. Since morning I have been hearing that the theatres in the outskirts seem to be more open and expressive than happenings in multiplexes," he said.
A young fan Ravi said, "It's a fantastic film". Chidambaram, a college student, gushed, "It takes Tamil cinema to a new level."
When asked whether the public endorsements from Rajinikanth and Kamal Haasan helped draw crowds to the theatre, Vetrimaaran said: "We grow up watching films by the greats. Like Kamal sir, Rajini sir, Mani sir. All these greats come together to support a film like ours. They have made it big. The film is a very small film but, their wishes and support have made this film into a very big film."
On Thursday, Rajinikanth had tweeted: "I have never seen a movie like
Visaranai
in Tamil. This will be one of the best movies in world cinema." (Also Read:
Rajinikanth Predicts This Film Will be the 'Best in World Cinema'
)
விசாரணை மாதிரி ஒரு படத்தை தமிழில் நான் இது வரை பார்த்ததில்லை. உலக படவரிசையில் ஒரு தமிழ் படம்.வாழ்த்துக்கள் வெற்றிமாறன் - தனுஷ்

— Rajinikanth (@superstarrajini) February 4, 2016
Vetrimaaran replied:
Your wish has made our film bigger than it actually is. Thank you sir. https://t.co/N4FEEYM8qW

— Vetri Maaran (@VetriMaaran) February 4, 2016
Kamal Haasan invoked late filmmaker Balu Mahendran, with whom he had worked in
Moondram Pirai
: "I thank Balu Mahendra for inspiring Vetrimaaran towards good cinema. Watched Visaranai with awe."
நல்ல சினிமாவின் தாக்கத்தை வெற்றிமாறனின் மனதில் பதித்துச்சென்ற என் பாலுமஹேந்திராவிற்கு நன்றி நேற்று விசாரணை படம் பார்த்து வியந்தேன்

— Kamal Haasan (@ikamalhaasan) January 30, 2016
Vetrimaaran, whose film premiered at the Venice Film Festival in 2015, was also asked to define himself, and he said: "I try to make films that I am very excited about. My next with Dhanush will also have Samantha, Andrea..an ensemble cast."
Visaranai
is based on a Tamil novel called Lock Up by M Chandrakumar, a former auto-rickshaw driver.
Visaranai
, produced by Rajinikanth's son-in-law Dhanush, stars Dinesh, Samuthirakani, Kishore and Murugadoss in key roles.
Watch: