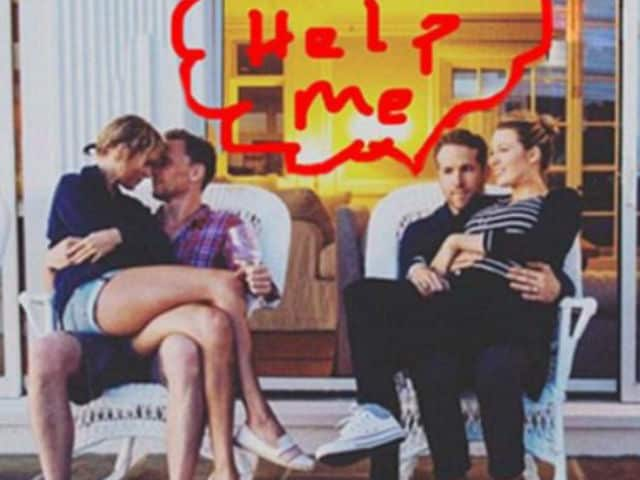 Highlights
The photograph was shared by Taylor Swift's non-famous friend Britany
Ryan-Blake are sandwiched between Tom-Taylor and Britany and her husband
Ryan's resting regret-face is tugging at Twitter's heartstings
New Delhi:
A cry of 'save Ryan Reynolds' has gone up across Twitter after the
Deadpool
actor was pictured at
Taylor Swift's splashy July 4 party
looking more dead than pool/cool.
An Instagram photo posted by Taylor's non-famous friend Britany (revelation: T-Swift has non-famous friends), Ryan and wife Blake Lively are sandwiched between a loved-up looking Tom Hiddleston and Taylor, and Britany and her husband.
Ryan definitely looks uncomfortable with all the Hiddleswift action going on next to him.
Ryan's resting regret-face is tugging at Twitter's heartstings.
@mostlyemotional *hello darkness my old friend* pic.twitter.com/V0uzuSRaQR

— Bradley Coopers (@mytwidds) July 6, 2016
Reynolds looks like he forgot to say cheese bc he was mentally cataloging the regrettable choices that led to this pic.twitter.com/koFtgdNSrm

— beautiful lunatic (@mostlyemotional) July 6, 2016
Ryan Reynolds is all of us trying to understand the phenomenon that is #Hiddleswiftpic.twitter.com/jI2OR4A6IL

— Abby Feiner (@arfeiner) July 5, 2016
tag yourself i'm ryan reynolds dying inside pic.twitter.com/cNaivGxEtg

— 28 days (@msharapovas) July 6, 2016
I have never seen anyone so second-handedly embarrassed like Ryan Reynolds next to Hiddleswift canoodling.

— Kitty Kat (@Wickedlydeeper) July 6, 2016
Was Ryan Reynolds there so Tom had a grown up to talk to/help him chaperone?

— Laura (@beatupcar) July 4, 2016
@VancityReynolds what to do think when Loki is next to you ? You know pic.twitter.com/9JJXicb19S

— karlaPME (@pigeon_enllamas) July 7, 2016
My concern at this point is less about the legitimacy of Hiddleswift and more about extracting Ryan Reynolds.

— Carleesi Lane (@carlylane) July 5, 2016
#TomHiddleston: My litejazz album drops on iTunes Friday#RyanReynolds: Kill me
Couple at end: WE KNOW FAMOUS PEOPLE pic.twitter.com/hLyp9yJH1W

— Sarah McMullan (@SarahMcMullanNZ) July 6, 2016
Ryan does appear to be having more fun in this photo posted by his wife Blake Lively:
If you don't know by now, Blake is one of Taylor Swift's besties. The Bad Blood singer, 26, and Tom Hiddleston, 35, popped up in paparazzi pictures some weeks ago, snogging on Rhode Island, where T-Swift lives. Since then, they've been jetted across the globe, being photographed in Nashville, England and Italy.
Tom, who famously plays Loki and wants to be the next James Bond, wore a T-shirt that read 'I (heart) TS' to his supposed girlfriend's July 4.