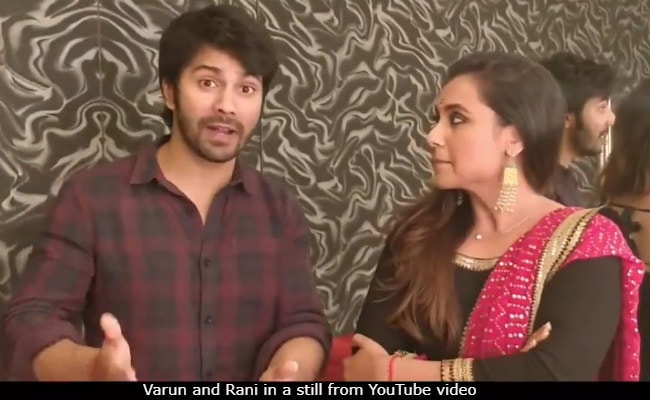 Highlights
Varun shared a story about his stage fright
"I started talking too fast," he said
"I just froze," he added
New Delhi:
Varun Dhawan was recently roped in to talk about
the biggest road-block or hurdle he faced
during the initial days of his career as an actor when he shared an interesting anecdote with Rani Mukerji. Talking about his
hichki
, Varun said: "This actually happened at the beginning of my career. I became an actor. I faced the camera and all that was fine. When you become an actor you go to awards shows, you give performances. So, the first time I was on stage, I don't know what happened. I just froze. I started talking too fast."
Rani Mukerji has actually been busy
with promotional duties for her new film
Hichki
, which releases on March 23.
Carrying on which his story, the
October
actor said: "You come on stage and you see people like Rekha ji, Sridevi ji, Shah Rukh Khan and Salman Khan... (You don't attend too many award shows. So, I don't think I saw you there) and I got so nervous." Seeing a bevy of Bollywood A-listers in the front row for the first time was a bit too overwhelming for Varun: "The celebrities freaked me out," he added.
So, how did Varun Dhawan deal with his stage fright? He took ideas from Elvis Presley and Dwayne 'The Rock' Johnson, said Varun. "When I went out there next time, and I saw a lot of celebrities in front of me, I saw myself as Elvis Presley. 'Okay I'm here. I'm going to own this and this is my life and this is my identity.' And I messed that up too," said Varun. "But I messed up that also," he added as a side-note.
Watch Varun Dhawan talk about his
Hichki
here:
Varun Dhawan is currently busy shooting for
Sui Dhaaga
, co-starring Anushka Sharma. Varun also has a dance drama with Katrina Kaif in the pipeline.
Directed by Siddharth P Malhotra and produced by Maneesh Sharma,
Hichki
is set to hit the screens on March 23.