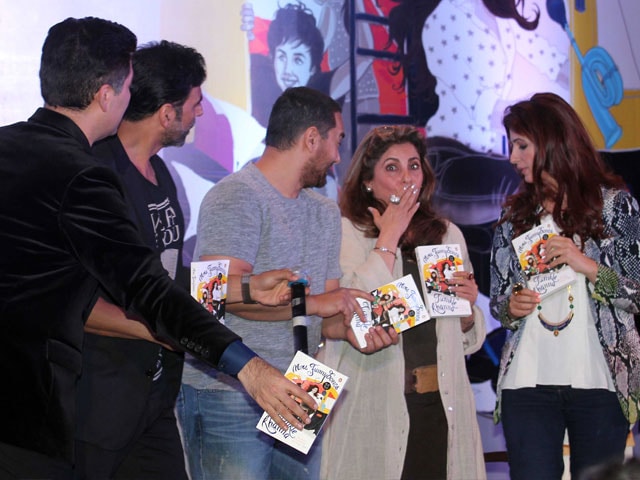 New Delhi:
As far as book launches go, this one was not only more exalted but also more irreverent than most. On the evening of August 18, a gathering of celebrities presided over the launch of actress-turned-writer Twinkle Khanna's first book,
Mrs Funnybones: She's Just Like You and a Lot Like Me
, in Mumbai. Twinkle's mother Dimple Kapadia did the honours. In the audience were Jaya Bachchan, Susanne Roshan and Sonali Bendre. But it was the league of extraordinary gentlemen on stage with Twinkle who provided much of the evening's entertainment - her husband Akshay Kumar and close friends Aamir Khan and Karan Johar.
Given that it was an evening to celebrate Twinkle's now fabled quick wit and ready tongue, the repartee that each Bollywood star bounced off the other was cheeky, to say the least. So cheeky, in fact, that the air was quite blue with insults. (Also Read:
Twinkle Khanna on Aamir's Height, Akshay's Editing and Her Bad Acting
)
Here are the 10 best insults of the evening:
1. All of us have different abilities, Twinkle's is insulting people: Aamir Khan
2. Twinkle is the only person to scar my childhood: Karan Johar
3. I contributed to Twinkle's marriage because she married Akshay after Mela flopped: Aamir
4. Twinkle is like my film Baby, deadly mission with a happy ending: Akshay Kumar
5. She sounds like she should be banned already: Karan Johar
6. Film title for Twinkle would be -
Hunterwaali
: Aamir Khan
7. He cries during movies just like Aamir: Twinkle on Akshay
8. My other names could have been Sparkle and Sprinkle. We don't ask my mother for names: Twinkle
9. Twinkle made a list of why she wanted to marry me. The list was a genetic one - whether diseases run in the family: Akshay
10. I worried she wouldn't make it as a writer. I told her just because everyone likes to watch cricket doesn't mean they can play: Aamir Khan