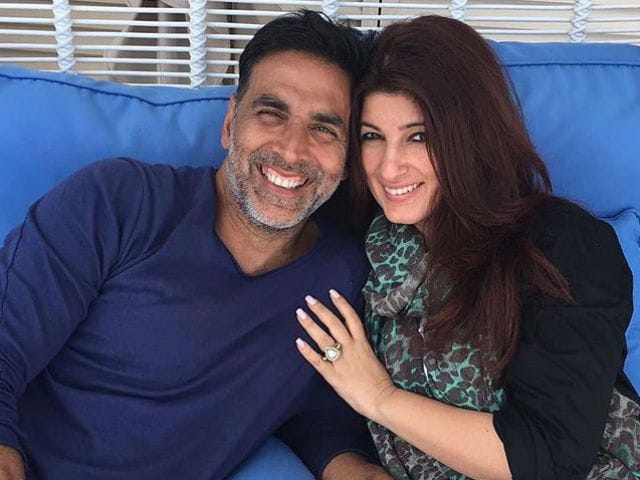 Highlights
Twinkle said that she was better-read than her husband Akshay Kumar
The author also revealed that Akshay is street smart
Twinkle Khanna and Akshay Kumar married in 2001
New Delhi:
Author Twinkle Khanna told the crowd at a literature fest on Sunday that while she was better-read than her husband, actor Akshay Kumar, he was more street smart. He (Akshay) doesn't read. I always say you need to read to be smart or successful but he doesn't read. Despite that, he is really smart. He is smart in a different way than I am.
I am probably better read, but he is street smart
," Twinkle said, reports news agency IANS. The 42-year-old former actress recently released her second book, The Legend Of Lakshmi Prasad. Her first book, titled Mrs FunnyBones, made Twinkle Khanna a best-selling author.
"He is better with numbers than I am. His understanding of people, the way business works, is greater than me. He is extremely confident," said Twinkle, known for her plain-speaking. "In the movie industry, just like any other place, there are some smart people, some very dumb people. I know many smart and dumb people. I would say Aamir Khan is smart," she thrilled the crowd by saying. She didn't, however, name a 'dumb' person. Aamir and Twinkle co-starred in the 2000 film
Mela
and the actor was present at the launch of Mrs Funybones last year.
Twinkle, an outspoken feminist
, also said, "A lot of people have this misconception about feminism. They feel that feminists are aggressive, man hating women with a little moustache. It's not true. It's got a bad rap because probably at the time when feminism came into being, you had to be strident and aggressive because you were facing so much opposition but that's not the case today. Feminism is about gender equality, not gender neutrality."
Twinkle Khanna, daughter of actors Rajesh Khanna and Dimple Kapadia, starred in films like
Barsaat
and
Baadshah
. She acted with Akshay in
International Khiladi
and
Zulmi
. Twinkle, whose last film was 2001's
Love Ke Liye Kuch Bhi Karega
, recently told NDTV in an interview, "I have no acting skills! You need acting skills to act, not intelligence. They're two different skills."
Twinkle Khanna and Akshay Kumar married in 2001
and have a son and daughter.
(With inputs from PTI)