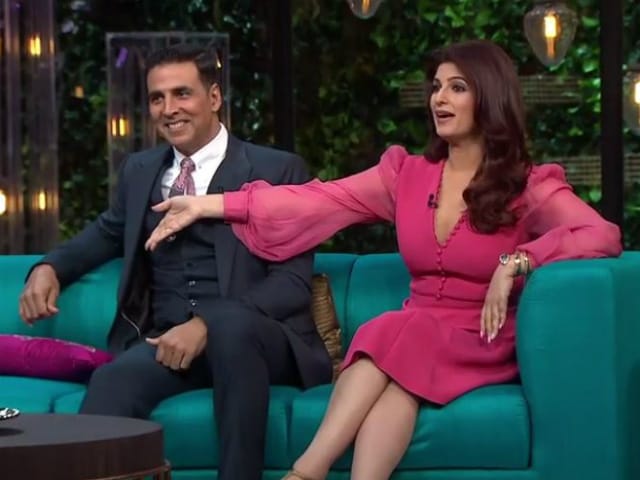 Highlights
The second episode of Koffee With Karan season 5 aired on November 13
Twinkle Khanna lets out a secret: 'Akshay Kumar cries like a baby'
Twinkle Khanna won the Rapid Fire Round like a boss
New Delhi:
The Twinkle Khanna-Akshay Kumar episode on
Koffee With Karan
was an effective dose of laughter therapy
. We recommend it every week. The star couple were on Karan Johar's
Koffee
couch for the first time together - Twinkle made her debut while Akshay has already been on Karan's guest list in Season 4.
At the launch of Twinkle's first book
Mrs FunnyBones
last year, Akshay said that he lived in fear of what his outspoken wife might or might not say in public, especially on shows like
Koffee With Karan
.
In a recent interview with NDTV
, when asked about Karan's show Twinkle said: "I have already called him and begged him to delete three lines. So, I hope he does delete those three lines."
Every time
Twinkle spoke on the show
(which is most of the time, prompting Akshay to beg for his chance), Karan face palmed. Akshay scored full marks for keeping a straight face despite being knocked for a six.
Here are 10 best quotes from
Koffee With Karan
Season 5 episode 2:
Twinkle on Akshay reviewing her columns:
"Every column I write, he reads it. Then he will decide what should be removed because he is Salman Rushdie and I am what... Chetan Bhagat? And I am given marks!"
Twinkle described Akshay from before they started dating:
"Six feet of chocolate ice cream"
Twinkle explained why she charted down the medical history of Akshay's family members before marrying him:
"Primarily, you get married to have children. So, you are introducing this genetic strain into your family life. I wanted to know what are the diseases running in his family"
Akshay 'agreed'. His advice to couples:
"
Kundli milane se pehle
, genetic
chart milao
"
Karan, after being trolled by close friend Twinkle:
"There was a very brief moment in my life when I was in love with you. I wonder why"
Akshay on his life changing for the better:
"Twinkle came into my life and everything changed. That's also what she keeps on telling me"
Twinkle on how Akshay tries to tone things down for his outspoken wife:
"Every time I blurt out something, he says "
beta, chashma pehenle
". Couldn't he come up with something else? Something cooler? That's our old code word"
Twinkle on the "meanest thing" that has been said about her writing:
"When you (pointing at Karan) started writing columns, people said Karan is the new 'Mrs Funnybones'. That hurt me because I didn't want my standards to go so down"
* Face palm *
Twinkle on critics:
"They don't have to say anything, they just sing:
Mela dilo ka...
."
Akshay on the one thing he would like to change about Twinkle:
"The fuse. She goes off... Oh my god"
Twinkle and Akshay married in 2001 and are parents to two children - daughter Nitara and son Aarav. Twinkle is the highest selling female author of 2015 and her second book
The Legend Of Lakshmi Prasad
is out now. Twinkle and Akshay also spoke about the rapport they share, "the only one thing" they have in common and their career. Twinkle
effortlessly handled
Karan's questions during the famous and dreaded Rapid Fire Round to take the hamper home. Towards the end, she even put him on the spot firing from a questionnaire made by her four-year-old daughter Nitara.
The second episode of
Koffee With Karan
season 5 aired on November 13.