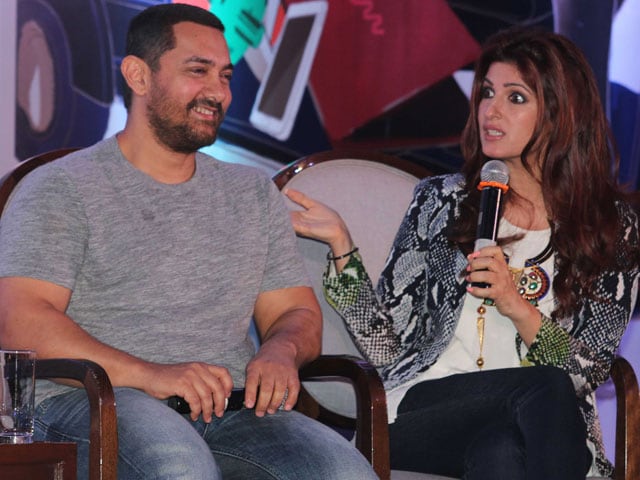 New Delhi:
MrsFunnybones' easy, self-deprecating and irreverent humour has won her a dedicated following but, at the launch of her first book in Mumbai on August 18, there were several reminders that Twinkle Khanna is not the
aam aurat
the title - She's Just Like You and a Lot Like Me - might reveal her to be. She is, in fact, Bollywood royalty and perhaps there was no better barometer of this than the presence of actor Aamir Khan who played a starring role in the evening's proceedings.
Aamir, who co-starred with Twinkle in 2000's ill-fated
Mela
, is a close friend of the former actress and her actor husband Akshay Kumar. How close a friend? He was the videographer at Twinkle and Akshay's hush-hush 2001 wedding to which almost nobody was invited. "Twinkle constantly misuses me, she made me the videographer on her wedding. That's the job she gave me," he told reporters. (Also Read:
Twinkle, Aamir, Akshay, KJo: 10 Best Insults From Mrs Funnybones' Book Launch
)
Ahead of the book launch, Aamir told the press, "Twinkle has always had a great sense of humour. When I acted with her, I didn't know she'd become such a good writer. I'm very happy she's written this book. I've read her articles and they are very funny. I congratulate her on her new career and I wish her all the very best."
This typically Aamir-like gravitas evaporated the instant the 50-year-old actor took the stage with Twinkle, Akshay and filmmaker Karan Johar, also a close friend of the newly-minted author. "Mr Khan doesn't want to come on stage because he's thinking he will get arrested and this is like the AIB Roast," was the verdict pronounced by Twinkle and Karan before the
PK
star joined them. (Also Read:
Twinkle Khanna on Leaving Bollywood, Her New Book and More
)
This challenge of sorts was accepted. Aamir, introduced by Karan as the 'man responsible for her marital status and the reason why she married Akshay' (they married after
Mela
flopped) took part enthusiastically in the banter that ensued, matching Twinkle and Karan insult for insult.
Twinkle's most damaging revelations about the Khan included this: "I caught Aamir crying behind a rock because he had gone to our
Mela
director Dharmesh Dharshan to explain a shot and the director didn't listen to him so he was heartbroken."
She also said that she used to send him her articles when she first began writing and that he would rubbish them and send her back links to his TV show
Satyamev Jayate
. "He competes with me, he competes with everybody," she said.
This appears to have been partly true. "I didn't think she would make it as a writer. I used to tell her, just because everyone likes watching cricket doesn't mean they can play," Aamir said. He did also say that he wasn't as dismissive of Twinkle's writing as she seemed to think. "When I started reading her articles, I realised she was very funny, perceptive and I was most impressed by her."
Aamir delivered this backhanded compliment to his former co-star, managing to both insult and praise her like a boss: "It was really good working with Twinkle because I discovered that behind this bimbette kind of exterior there is this sharp person with a great intellect and sense of humour who is very perceptive about human relationships."
Also this, which is essentially MrsFunnybones' origin story in brief: "Twinkle is talented in some of the most amazing activities. She is very talented in insulting people. She has constantly been insulting me, great fun working with her."
And the final, damning judgement: "A film about Twinkle would be named Hunter
waali
." Mischief managed.
Perhaps MrsFunnybones' brand of humour is infectious, but this was an Aamir rarely seen now but much missed - unguarded, politically incorrect, less the Aamir of
Satyamev Jayate
and more the beloved slacker of films such as
Rangeela
and
Andaz Apna Apna
.