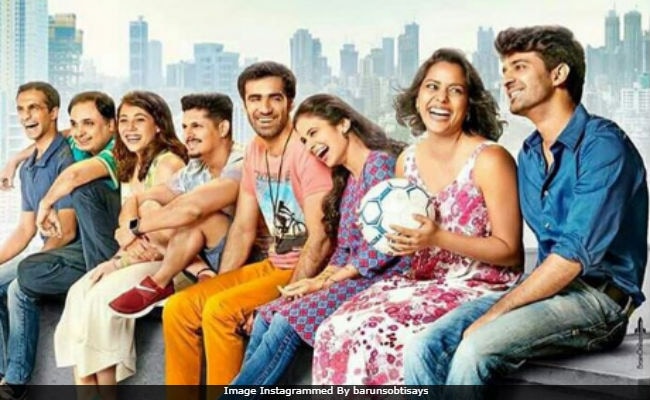 Cast: Barun Sobti, Shahana Goswami, Pallavi Batra

Director: Milind Dhaimade

Rating: 3.5 Stars (Out of 5)

Breezy, ballsy and bracingly bare-bones, Tu Hai Mera Sunday, former adman Milind Dhaimade's maiden fiction feature, is an urban-alienation drama delivered with a vigorous and fresh spin. The film, speaking a language rooted in reality, draws a vibrant portrait of the diversity of suburban life in Mumbai even as it probes the many challenges that the middle class in a bustling city bursting at the seams has to face day in and day out.


Dhaimade isn't making any grand statement out here. All he does is attempt an approximation of the macro picture with the aid of diligently etched micro-narratives about a group of culturally disparate characters grappling with workaday stress and turmoil in a megalopolis that insinuates itself deep into the souls of its inhabitants.
In a broad sense,
Tu Hai Mera Sunday
is the story of five buddies looking for space in Mumbai to play football, a game that brings them together every Sunday. Juhu beach is their favoured playground until a minor mishap renders the place out of bounds. Housing society compounds chock-a-block with parked cars, rain drenched terraces and not-so-deserted lanes serve as alternative sites, but none of them has the potential to be permanent.

There is much more to this film than the passion for a sport or a quest for a physical location. As the multiple stories unfold over 126 minutes, football takes somewhat of a backseat and the film turns into a loose-limbed, nimble-footed exploration of the personal and professional dynamics that propel these moody men and the people in their lives towards their respective goalposts. It is a story of confused negotiations, all-0ut confrontations and unsettling meltdowns bookended by tentative urges on the one hand and bold, assertive, life-altering initiatives on the other.

The screenplay assembles characters that are real and places them in situations that are believable. The acting is so splendidly natural all around that it is easy to be swept up by the many-pronged tale that touches upon a slew of tangible problems ranging from urban angst and widening social fissures to shrinking space for recreation and rising workplace pressures.

Dhaimade's light touch makes Tu Hai Mera Sunday an easy watch. The film canters along at an even clip, evading ungainly plot lurches as it glides through the lives of the five football freaks thrown off by a ban on playing on Juhu beach.


The leader of the group of boys is the self-effacing Arjun Anand (Barun Sobti), a Nagpur guy who's been in Mumbai for 12 years. Having opted out of the corporate rat race in pursuit of happiness, he seeks self-fulfilment in the little joys of life. His 'nice guy' deportment helps him befriend Kavya Ranganathan (Shahana Goswami), a working woman whose Alzheimer's-afflicted father (Shiv Subrahmanyam) he volunteers to take care of when the lady works extra hours on an off-day. The old man, obviously a former sportsman, cannot contain his excitement when he sees a football.

Anand's growing proximity to Kavya's dad does not go down too well with his mates, especially the lonesome Rashid Sheikh (Avinash Tiwary), whose single-room tenement is a total mess, pretty much like his life, which lurches from one fling to another until a new neighbour (Rasika Dugal) moves into the building with her two sons.

The others, too, have to contend with their own set of day-to-day problems. Dominic (Vishal Malhotra), a ukulele-strumming Goan Christian boy, does not see eye to eye with his brother Dennis (Suhas Ahuja), a fact that upsets his mother no end. Mehernosh (Nakul Bhalla), a Parsi accountant saddled with an obnoxiously overbearing boss. His vents his ire by sending abusive letters to the hectoring honcho. And Jayesh (Jay Upadhyay), a Gujarati stockbroker and father of two raucous children, is stuck with an extended family that never leaves him alone.

The back stories of these men, revealed in small tranches, complete a picture that tells us a great deal about the sort of Mumbai lives that we have rarely seen on the big screen since the heydays of the middle-of-the-road cinema popularized by the likes of Basu Chatterjee, Hrishikesh Mukherjee and Sai Paranjpye.

The performances in Tu Hai Mera Sunday are the icing on the cake. All the actors, even those that get no more than a couple of scenes, leave an indelible mark on the film. A couple of them, Avinash Tiwary and Nakul Bhalla, are called upon to anchor highly dramatic scenes that run counter to the generally subdued tone of the film, but they prove equal to the task.

Barun Sobti etches out with empathy a young man who is acutely aware of his weaknesses and strengths. As the woman who helps him move towards a semblance of clarity, Shahana Goswami registers a luminous presence. It is a mystery why this gifted actress isn't more visible than Bollywood allows her to be.


If there are a few blips along the way, they stem from the fact that the film is rather 'overcrowded' and a few of the characters inevitably get the short shrift. The most notable among them is the woman played with magnificent grace by Rasika Dugal. Like Rashid, her troubled neighbour desperate to get rid of a rampant rat in his room, this loner is disadvantaged on several counts: she is a Muslim, a single mother, and her two boys are both deaf-mutes. But she isn't the least bit bitter about her plight and is content to deal with each day as it comes.
Tu Hai Mera Sunday
abounds in characters that we can relate to instantly. But it is this spirited woman - she is defined by her ability to smile her way through adversity - who stands out and leaves us wishing that there was more of her in this lovely little film about real people confronting real problems. But there isn't much else that the film lacks. It sets itself a modest target and achieves it without breaking a sweat. Don't wait for Sunday, watch
Tu Hai Mera Sunday
right away and spread the word.