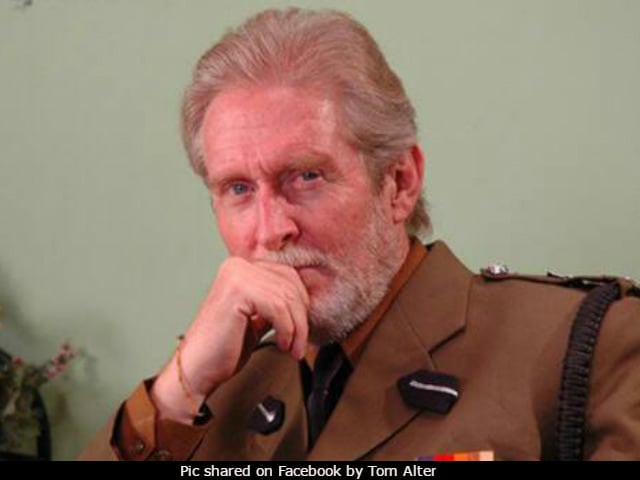 Highlights
Tom Alter is currently under treatment in Mumbai's Saifee Hospital
The actor's been admitted there for a week now
"He is fighting it well," said his son Jamie
New Delhi:
Veteran actor and theatre personality Tom Alter has been diagnosed with skin cancer, confirms his son Jamie in a phone interview with news agency IANS. Earlier today, the 67-year-old actor had begun featuring in headlines for reports stating he's suffering from bone cancer. Dismissing such reports, Jamie told IANS that Mr Alter was treated for something similar last year - the illness has relapsed and is in stage four. "It is what is called a squamous cell carcinoma (a type of skin cancer). It is a relapse of the same thing which had happened last year and unfortunately, for various reasons, it was not detected at that time and has come back," IANS quoted Jamie as saying.
Tom Alter is currently admitted in Mumbai's Saifee Hospital, where he's remained under treatment for a week now. It was last year when the actor had to get his thumb amputated because of the condition, stated the IANS report. "He is fighting it well. He is showing the will to battle it out. He is under the best care possible. Various doctors across the country are in consultation. As a family, we are very happy with the treatment he is getting," Jamie told IANS.
Tom Alter's son said the family will keep the media updated with the actor's recovery status, adding that the doctors are happy with how the actor has responded to the treatment in the past week. "His bodily functions are absolutely fine. The doctors are very happy with that. The past one week has gone in getting him in a state of physical strength, whereby the doctor is able to start the next round of medication," Jamie told IANS.
Tom Alter, an actor of Indian American origin, is known for having featured in starring roles in children's TV shows like
Shaktiman
,
Betaal Pachis
and
Captain Vyom
. He was last seen in
Sargoshiyan
, which released in May this year. Tom Alter is best known for films like
Parinda
,
Gandhi
,
Kranti
,
Aashiqui
and the Satyajit Ray-directed
Shatranj Ke Khiladi
. In 2008, Tom Alter was honoured with Padma Shri for his work in Indian cinema.
(With IANS inputs)