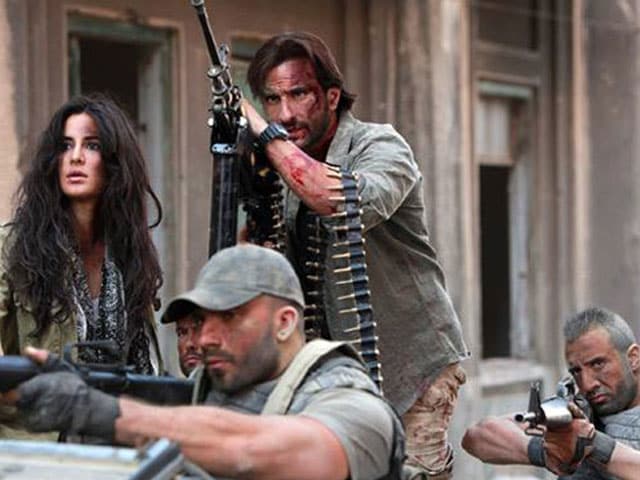 New Delhi:
The box office is simply lousy with new movies today, beginning with the controversial Phantom.
Directed by Kabir Khan and starring Saif Ali Khan and Katrina Kaif, Phantom is set in the aftermath of the 26/11 Mumbai attacks and deals with global terrorism. The film is based on Hussain Zaidi's novel
Mumbai Avengers
. It was recently banned by a Pakistani court after Jamaat-ud-Dawa (JuD) chief and alleged 26/11 mastermind Hafiz Saeed argued that it contained 'filthy propaganda' against him and his outfit. (Also Read: Phantom Banned in Pakistan on Hafiz Saeed's Plea http://movies.ndtv.com/bollywood/phantom-banned-in-pakistan-on-plea-of-haifz-saeed-1209331)
Directed by Nila Madhab Panda of
I Am Kalam
fame, Kaun Kitney Paani Mein is a satirical look at how the power dynamics between two villages are drastically altered because of a changing variable - abundance or lack thereof of water. The film stars Kunal Kapoor and Radhika Apte.
Ricki and The Flash
, starring Meryl Streep in the titular role, revolves around a woman who shifts base to another city to pursue her dreams leaving behind her family. She faces dissonance soon after and returns, hoping to reconcile with her husband and children. Directed by Jonathan Demme, the film also co-stars Kevin Kline, Ms Streep's daughter Mamie Gummer, Rick Springfield, Audra McDonald and Sebastian Stan.
Guy Ritchie's
The Man From U.N.C.L.E
, featuring Henry Cavill, Armie Hammer, Alicia Vikander, Elizabeth Debicki, Jared Harris and Hugh Grant, is a spy thriller set in the backdrop of the Cold War era of the sixties.
The John Erick Dowdle-directed
No Escape
, starring Pierce Brosnan, Owen Wilson and Lake Bell, revolves around an American family who shift to Asia only to find themselves trapped in a war zone from which they try to escape frantically.