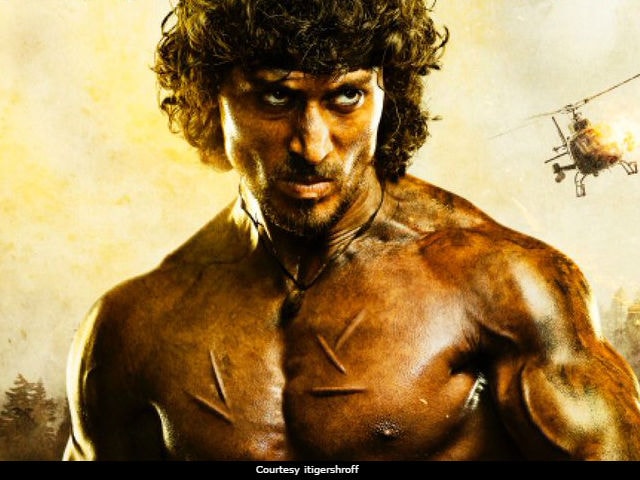 Highlights
'Humbled and blessed to step into his shoes,' tweeted Tiger
'I read recently they are remaking Rambo in India,' said Stallone
'Hope they don't wreck it,' he added
New Delhi:
If playing a superhero was not enough, Tiger Shroff is all set to step into the shoes of Sylvester Stallone in the Bollywood remake of the action hero's classic film series. The first poster of Siddharth Anand's
Rambo
remake features an angry looking Tiger Shroff in a strikingly similar appearance to that of Stallone as Rambo. Tiger, who is known to
perform his own action stunts
, paid a tribute of sorts to Stallone while sharing the poster and wrote: "Grew up on this character, humbled and blessed to step into his shoes years later." Meanwhile, news has reached the actual Rambo who appears slightly apprehensive about the new version of the movie, that contributed majorly in making him the star he is. "I read recently they are remaking Rambo in India. Great character. Hope they don't wreck it," he posted on Instagram.
Here's the poster of
Rambo
, in which Tiger features in the signature Rambo pose against the backdrop of an ammo battle.
Grew up on this character, humbled and blessed to step into his shoes years later. #RamboRemakepic.twitter.com/eQYqMw46pm

— Tiger Shroff (@iTIGERSHROFF) May 20, 2017
Tiger Shroff received a shout-out from actress Bipasha Basu, who appeared excited for the remake. Siddharth and Tiger, you have Bipasha's best wishes.
All the best to my dearest Siddharth Anand and mamtaanand10 for #Rambo@iTIGERSHROFFhttps://t.co/w5ll7ddSbD

— Bipasha Basu (@bipsluvurself) May 20, 2017
Meanwhile,
the new poster of Rambo excited Tiger Shroff fans
on Twitter. "No one can replace Sylvester Stallone's character except Tiger Shroff. He is the only hero who can do that kind of role," read a tweet while Tiger is the "perfect man for the role," said another.
No one can replace @TheSlyStallone 'character except @iTIGERSHROFF !He is the only hero who can do that kind of role! #RamboRemake#Rambopic.twitter.com/5dbVgYs0w0

— Tigershroff_fc (@Tigershrofffc1) May 20, 2017
Perfect man for the role#Rambo

— Abhilash (@Abhilashk45) May 20, 2017
Full in action mode @iTIGERSHROFF looking very dangerous and cool love the poster of #Rambopic.twitter.com/nE3T20ZE3p

— Ali Mahmood (@alimahmood00) May 20, 2017
Terrific first poster of #Rambo starring @iTIGERSHROFFpic.twitter.com/bLKAnsrT7Y

— Sumit kadel (@KadelSumit) May 20, 2017
Talking about his new film,
the Baaghi star
told news agency IANS: "Being a martial artist and a huge action movie buff since childhood, this all seems very surreal, and I'm very grateful for this opportunity. By no means do I believe I can replace the legendary Sylvester Stallone; however, I do feel that somehow this is something I've been preparing for since childhood."
The film is expected to go on floors next year and is reported to release by the end of 2018. Siddharth Anand, who directs Tiger Shroff in the Hindi remake of
Rambo
, had also helmed
Bang Bang!
, the Hindi version of Tom Cruise's
Knight And Day
.