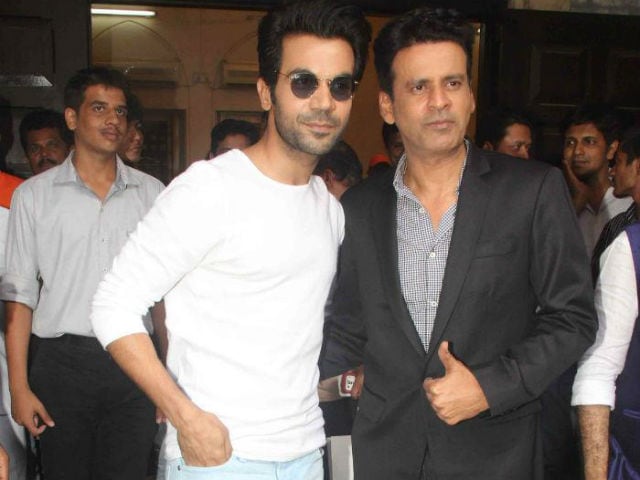 New Delhi:
Manoj Bajpayee and Rajkummar Rao are two of the most competent actors in the industry today but Manoj said that there was no insecurity between the two while filming
Aligarh
.
Manoj and Rajkummar featured in Hansal Mehta's
Aligarh
.
"The chemistry between us has come out well in
Aligarh
because of the mutual respect. There is no insecurity. We are not jealous of each other's lines and presence. He respects me and I give that respect back. We are each other's admirers and well-wishers," Manoj told PTI.
Manoj said that he jumped at the opportunity to play Siras when director Hansal Mehta approached him because he wanted to do something risky at that time.
"There was no apprehension in playing the role. Mentally, I was ready to do something risky in terms of people's mind sets. The way actors choose their scripts, there is a lot of insecurity in them as to what will happen but I have been a part of this industry for a long time. So, I was feeling a little jaded with the same routine of working," said Manoj.
"I wanted to do something really path breaking. Something which required guts and courage and professor Siras happened and I took it with both my arms without any doubt," added Manoj.
The 46-year-old actor said that playing the role was difficult.
"He was a poet too and I wanted to understand the mind of a poet and a person, who is in love with Lata Mangeshkar's songs. Somebody who is so lonely and he is happy about it. I used to hear a lot of Marathi songs by Lata
ji
and Asha Bhonsle
ji
to understanding Siras' mind," he said.(Also Read:
What Anurag Kashyap Has to Say About Manoj Bajpayee's Aligarh
)
"It was very clear in my mind that I will not compromise with Siras' dignity. That's how I look at homosexuals. They are very dignified people. So, creating any kind of stereotype would be complete injustice to any community," said Manoj.
Aligarh
released on February 26.