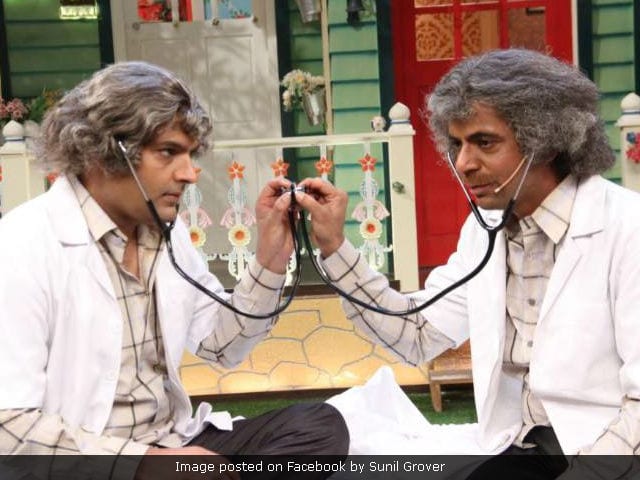 Highlights
Raju Srivastav says Kapil Sharma has a script tailor-made for him
I have my own style and my own audience, said Raju Srivastav
He's also trying to sort things between Sunil Grover and Kapil Sharma
New Delhi:
Comedian Raju Srivastav, who recently joined Kapil Sharma's gang on his television show, said that he is a part of the show but not as Sunil Grover's replacement. Raju Srivastav, 53, told
The Indian Express
: "There's no agreement signed regarding me joining the show but when I shot it last week, Kapil told me he enjoyed working with me and would like to call me again. Then I shot yesterday. Again Kapil said, 'I really like your style. I have a
script tailor-made for you
.' So, I am going to shoot today as well. In fact, talks are already done for the next one. I am working on the show and it is for a long haul."
But, Mr Srivastav denied replacing Sunil Grover, who played the role of Dr Mashoor Gulati and Rinku Bhabhi on the show. He said that his style is very different from Sunil Grover and the makers have plans to create a new character for him. "I have my own style and my own audience. Makers are planning to create a character for me like there are for other artistes on the show. Whenever they will want me, I will come on the show," he said.
Sunil Grover, 39,
quit The Kapil Sharma Show
after a mid-air altercation with host Kapil Sharma, 35, who allegedly abused Mr Grover and also threw a flight slipper at him. After the news of their fallout spread like wildfire on social media, Mr Sharma apologized to Mr Grover on Twitter, who in turn replied saying Kapil Sharma should not act like 'god.' A few days later, Mr Grover confirmed to
Mid-Day
that he won't return to the show and rumours about a separate collaboration for a skit are "all lies." He also posted a heartfelt note, addressed to his fans in which he confessed he feels "a little lost," and that he "wants to
surrender myself to good work
, good people who acknowledge my intentions genuinely."
Love only. pic.twitter.com/cJ7kRfGNBj

— Sunil Grover (@WhoSunilGrover) March 27, 2017
Though Sunil Grover has categorically denied returning to
The Kapil Sharma Show
, Raju Srivastav hinted at his possible comeback. He told
The Indian Express
: "In fact, it is a possibility that if Sunil is back on the show, I will be there and we will all perform together." Mr Srivastav is also trying to sort things between the two. "I have been trying hard to sort out things between them but as per the current situation, Sunil seems to be very angry. Ali and Chandan also agree with Sunil as they say that Kapil has changed now. He is not how he used to be earlier. There's no update on their return as well," he told
The Indian Express
. Mr Srivastav also said that Kapil Sharma is confident that Sunil Grover will return. "When I asked him about it last week, he said, 'We will sit and talk and things will sort out.
Do-do peg maareinge, sab sahi hojayega
,' he joked with me," he said.
Meanwhile, Sunil Grover will perform at a live even in Delhi today, on April Fool's Day. He will also
take up the role of Dr Mashoor Gulati
for an episode of
Indian Idol
.