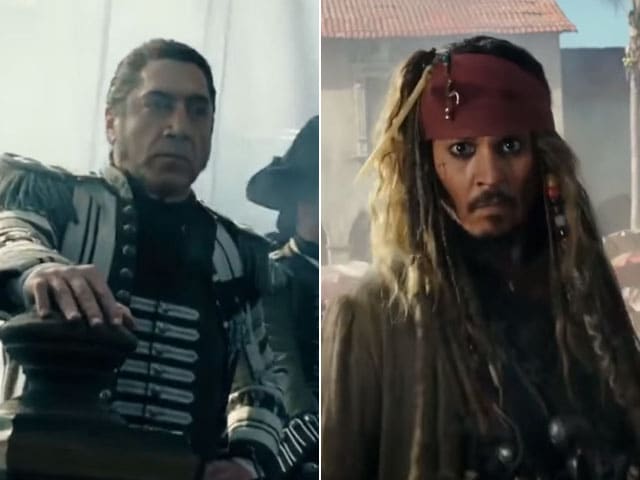 Highlights
'With Johnny Depp, you can tell there is a very sensitive person there.'
Javier Bardem and Johnny Depp worked in Pirates Of The Caribbean 5
Mr Depp was accused of physically abusing former wife Amber Heard
New Delhi:
Actor Javier Bardem thinks that his co-star Johnny Depp 'is a sensitive person,' reports GQ Magazine. The two actors will be seen together in
Pirates Of The Caribbean: Dead Men Tell No Tales
. Mr Bardem plays notorious pirate hunter Armando Salazar while Mr Depp reprises the role of Captain Jack Sparrow in the fifth instalment of the
Pirates of the Caribbean
series. In an interview with the GQ Magazine, the 48-year-old actor said, "With Johnny, you can tell there is a very sensitive person, a man who cares about people. That hasn't changed." This comes after Mr Depp's divorce from actress Amber Heard last year, who accused the
Black Mass
actor of domestic abuse. Mr Bardem also thinks that the 53-year-old actor is a 'gentleman'. Though he refused to comment on Mr Depp and Amber Heard's separation, he insisted that the 'Johnny he knows, is a gentleman'.
He told GQ Magazine, "I won't comment on these things (Johnny Depp and Amber Heard's divorce and her subsequent claims of domestic abuse) because I don't know anything about them. But there is a world outside the film studio."
The Academy Award-winning actor also said that Mr Depp is a fine actor with excellent comic timing. He told GQ Magazine, "(He is) an exemplary actor with a sense of comedic timing quite like no other." Johnny Depp married Amber Heard in a private ceremony in Los Angeles in February 2015, followed by a celebration in Mr Depp's private island in the Bahamas. The couple separated after 15 months in 2016 and what followed next was a bitter battle over the final terms of divorce. Johnny Depp and Amber Heard settled their divorce case for $7 million. Amber Heard pledged the alimony amount to two charities and Mr Depp directly donated the settlement money in a series of instalments. Amber Heard then accused Mr Depp for using the 'donation' for tax deduction. She had also alleged that Mr Depp threw a mobile phone at her face but he denied the claim.
Pirates of the Caribbean: Dead Men Tell No Tales
is directed by Joachim Ronning and Espen Sandberg. The film also has Kevin McNally and Geoffrey Rush reprising the roles of Joshamee Gibbs and Hector Barbossa respectively. The tentative date for the film's release in India is May 26.