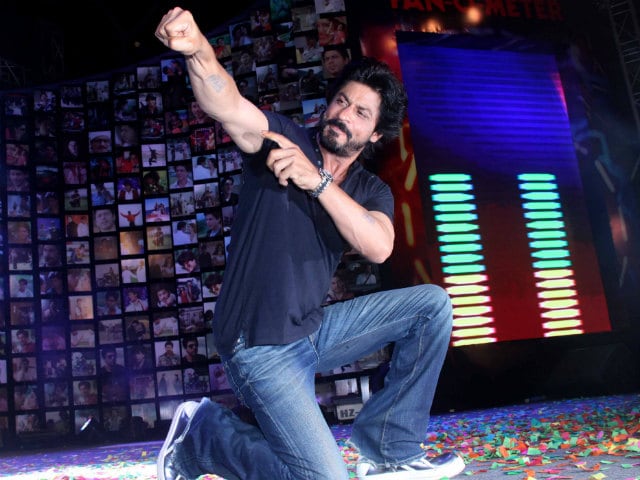 Mumbai:
Superstar Shah Rukh Khan has revealed that before he joined the film industry, he felt he looked like Bollywood actor Kumar Gaurav but at a later stage thought his looks matched that of Hollywood veteran Al Pacino's.
In his upcoming film
Fan
, SRK will be seen playing two roles, one of a superstar Aryan Khanna and his fan Gaurav, who comes across as his lookalike.
"Initially I used to feel I look like Kumar Gaurav (son of Rajendra Kumar). He was the first star I wanted to meet. I was happy that I looked like someone good like him. Then after some point, I felt I looked like Al Pacino," SRK told reporters at the trailer launch of
Fan
in Mumbai.
"Now at the age of 50, I feel I look like my father. I am hopeful a time will come when I would feel I look like myself," he said.
Fan
is the story of Gaurav a young man, whose world revolves around superstar Aryan Khanna and he refers to him as God.
From the bylanes of Delhi, young Gaurav embarks on a journey to the city of dreams, Mumbai, in order to wish Aryan on his birthday. But when things don't go according to plan, Gaurav's love and passion for the superstar turns into a dangerous obsession.
When asked about playing a psychotic obsessive role like he played in
Darr
, again in
Fan
, SRK said, "No not really. The role (of Gaurav) is different from what one saw me doing in
Darr
,
Baazigar
. These are anti-hero."
"In this film, he is not a psychotic lover. It's the story of a young boy and his love for a superstar," he said.
The
Chak De India
star feels it is not right on his part to dictate or tell his fans how they should be.
"A fan can be like Devdas, Rahul or Gaurav (referring to his popular roles). They have their own way of expressing. At times it is so much. I just don't want them to write letter with blood. Today we have email system and social media," he said.
"I am a fan of films. I enjoy being in this space. I remember my first fans were two ladies. I was in Delhi and they looked at me and yelled Abhimanyu Rai. I am thankful to them for making me feel like that," he added.
In real life, if SRK comes across a fan like Gaurav, he said he would sit and make him understand.
SRK's admirers were seen in large numbers at the film's trailer launch.
"Today is February 29 and this date comes once in four years. For the first time Yash Raj Films (producers) allowed fans in their studio. Adi (producer Aditya Chopra) did this as he loves me and he knows I love my fans a lot," said the
Dilwale
star. (Also Read:
Shah Rukh Says Some People May Not Like Fan, 'Can't Please Everyone'
)
Special arrangements were made for the trailer launch like an audio-visual sensor, fan-o-meter that detected the highest level of the sound (referring to people cheering at the venue), after which the trailer was launched.
SRK is thankful to his fans for being with him. "Whenever I am happy, sad I look upto you. I thank you all for making me the star that I am today," he said.
"I feel a fan, admirer should always take up good things. Like take up good things from Sachin Tendulkar, Amitabh Bachchan, Sania Mirza," he adds.
Before the trailer launch, SRK recited popular dialogues from his films like
Dilwale Dulhania Le Jayenge
,
Kuch Kuch Hota Hai
,
Devdas
,
Don
and
Fan
.
Directed by Maneesh Sharma and produced by Aditya Chopra,
Fan
releases on April 15.