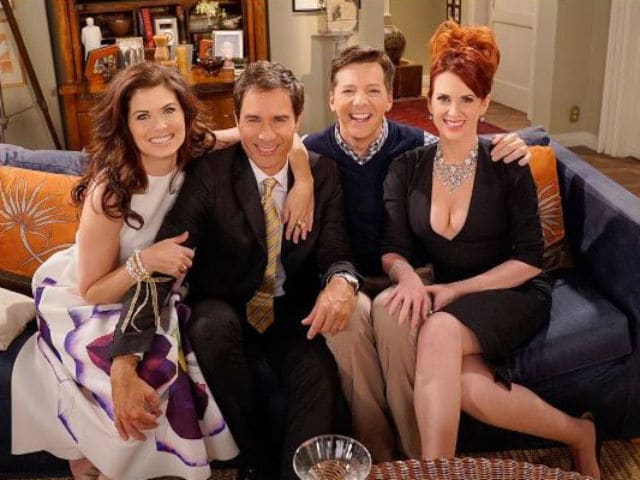 Highlights
Will & Grace ended its eight season run in 2006
It starred Eric McCormack, Debra Messing, Megan Mullally and Sean Hayes
Eric, Megan and Sean paid tribute to director James Burrows in February
New Delhi:
Former
Will & Grace
co-stars Eric McCormack and Debra Messing had a mini-reunion and shared snaps of a recent get-together on social media. But before fans get their hopes up for the show to return on television, the cast was actually just shooting for a Hillary Clinton campaign advertisement.
Reported
E!Online
, "All four of the leads came back together on the
Will & Grace
set to film a special project," stressing that it's 'not for TV,' at least not in the traditional sense."
The show's co-star Sean Hayes tweeted a photo of himself with Eric, Debra and Megan Mullally. "We're baaaaaaack!" he wrote, which may have triggered belief that the show was making a comeback.
Additionally, Debra tweeted a video with this line - "A band of heroes WILL assemble to protect the world from aliens & destruction. Only an act of GRACE can save them in their battle for what IS right. Only they can bring America BACK from the brink." It teased this phrase -"Will & Grace Is Back," leading to further speculation.
It was earlier unclear if the reunion is to celebrate the 10-year anniversary of the show, or just a friendly get together, but Debra soon quelled all confusion by telling her fans to watch a #VoteHoney video featuring the whole cast on Youtube via her social media accounts. Safe to say, the show is not returning to the small screen in its entirety any time soon.
Fans can still rejoice for the reunion a decade after the beloved sitcom ended its eight-season run.
Debra posted a picture of her happily embracing her onscreen best friend Eric, adding the caption, "You smell the same!"
Megan, who won two Emmy Awards for her portrayal of Karen Walker on the series, also shared a snap of Debra giving her a kiss on the cheek, adding, "a little girl-on-girl fun!", while Sean posted a selfie of himself with his onscreen partner-in-crime Megan, writing the caption, "OMG! They're here!"
A few months back, Eric, Sean and Megan paid tribute in unison to
Will & Grace
director James Burrows for a TV special.
Watch the ad campaign here: