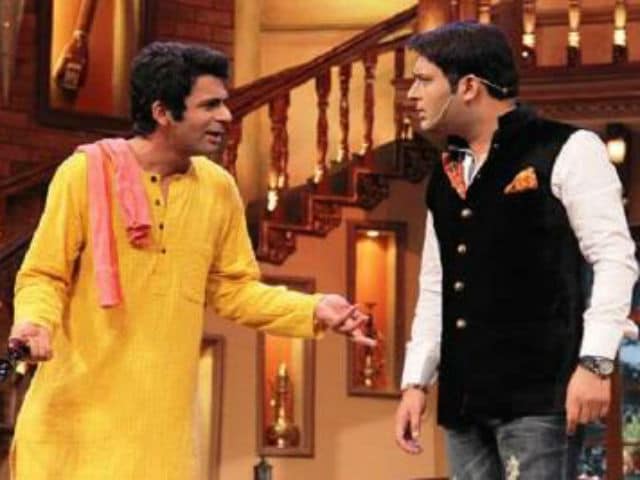 Highlights
Kapil Sharma allegedly hit Sunil Grover with a shoe
Sunil Grover may or may not have quit The Kapil Sharma Show
Ali, Chandan reportedly did not shoot for episode recorded on Monday
New Delhi:
Amid uncertainty over whether
Kapil Sharma's co-stars will return to his show
after an alleged dust-up between Mr Sharma and Sunil Grover on a flight, more details of what happened are emerging daily on several news portals. These have been provided by anonymous eyewitnesses - none of it has been corroborated by either
Mr Grover or other members of The Kapil Sharma Show
who were on the flight from Melbourne where the alleged fight is said to have taken place. Kapil Sharma, in a Facebook post and subsequent tweets, has sought to minimise his alleged assault of Sunil Grover - a report in
Hindustan Times
now suggests that Mr Sharma's description of the incident as an 'argument' is understating it tremendously. Mr Sharma was allegedly drunk -
Hindustan Times
now reports he flew into a rage because his team members began eating their meal before he did.
In a tweet two days ago, posted after
Kapil Sharma had publicly apologised, Sunil Grover accused his co-star of 'acting like God
.' He didn't elaborate on this charge but
Hindustan Times
' source claims, "Kapil was visibly drunk. When the food was being served by the cabin crew, his team started to eat. This angered Kapil, who was still finishing his drink." The source claims that when Mr Grover tried to intervene and calm Mr Sharma down, the comedian turned savagely on him. Kapil got up, took off his shoe, and hit Sunil. He also pulled Sunil's collar, and repeatedly slapped him,"
Hindustan Times
quoted the source as saying. The source also claims that Mr Sharma told his other co-stars that he could end their careers at will and taunted Mr Grover for having quit his previous show Comedy Nights With Kapil and then returning to the current programme,
The Kapil Sharma Show
.
Whether or not Sunil Grover will continue on the show is not clear yet. Various news portals -
Times Of India
and
The Quint
included - have reported that Mr Grover has quit and will not return on any condition. There is, however, no official confirmation of this. Mr Grover is reported to not have filmed the episode of
The Kapil Sharma Show
that was recorded on Monday - some of his co-stars were allegedly not at the shoot either. There are conflicting reports on this - some media outlets have suggested that the actors, among them Ali Asgar and Chandan Prabhakar, skipped the shoot in solidarity with Sunil Grover. However, it also appears that the episode being canned did not require the presence of the actors who were not there.
No official statement has been made by the makers of
The Kapil Sharma Show
or the channel that airs it, Sony. Mr Grover told NDTV that he would speak on the matter later - he is believed to be under contractual obligations.
Here are the only public statements that Kapil Sharma and Sunil Grover have posted on their social media accounts, in chronological order:
Paji @WhoSunilGrover sry if I hurt u unintentionally.u knw vry well how much I luv u. M also upset .love n regards always:)

— KAPIL (@KapilSharmaK9) March 20, 2017
From a friend, with love @KapilSharmaK9pic.twitter.com/2c7uQ5jqH5

— Sunil Grover (@WhoSunilGrover) March 21, 2017
@WhoSunilGrover paji dil jitt liya tusi.. now I love u more n more n more .. hun bada mazaa aan wala a.. akal aan to baad.. I love u.

— KAPIL (@KapilSharmaK9) March 21, 2017
@WhoSunilGrover today packed up at 6 am after so long n I missed so many things.. love u .. see u in evening at ur home

— KAPIL (@KapilSharmaK9) March 21, 2017
Sunil Grover plays the characters Rinku
Bhabhi
and Dr Mashoor Gulati on
The Kapil Sharma Show
. He played the character Gutthi on the previous show,
Comedy Nights With Kapil
.