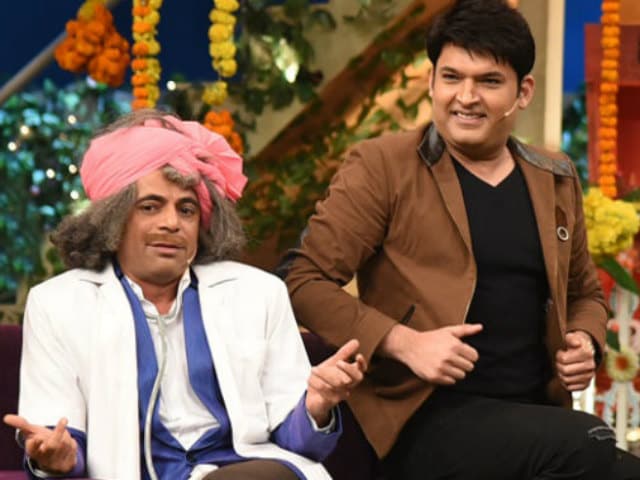 Highlights
Kapil Sharma was allegedly drunk on the flight back from Australia
He is reported to have physically assaulted Mr Grover
Sunil Grover quit Kapil Sharma's previous show over payment issues
New Delhi:
Comedian Sunil Grover did not shoot for Kapil Sharma's show on Monday after allegedly being assaulted by the TV personality on board a flight, reported
India Forum
.
India Forum
cited sources close to the production in the report, stating that Mr Grover is no longer part of Mr Sharma's show. This may have changed now, a
fter Kapil Sharma tweeted an apology
on Monday night that Sunil Grover appears to have acknowledged.
The Kapil Sharma Show
is headlined by comedian and actor Kapil Sharma while Sunil Grover played the role of characters like Dr Mashoor Gulati and Rinku Bhabhi. Earlier, he featured as Gutthi in Kapil Sharma's previous show
Comedy Nights With Kapil
. The actors are believed to have been involved in a showdown onboard a flight recently - Mr Sharma allegedly attacked Mr Grover, say eyewitnesses.
Kapil Sharma tweeted on Monday night:
Paji @WhoSunilGrover sry if I hurt u unintentionally.u knw vry well how much I luv u. M also upset .love n regards always:)

— KAPIL (@KapilSharmaK9) March 20, 2017
On Monday, it was reported that
Mr Grover was on the brink of exiting the show
. A source told
mid-day
that Mr Grover is "numbed" by his co-star's allegedly abusive behaviour. "Sunil is numbed by the way Kapil assaulted him during a flight from Melbourne, where they did a stage show. He was merely trying to calm down Kapil, who was drunk and hurling abuses at another team member, Chandan (Prabhakar),"
mid-day
quoted the source as saying.
Kapil Sharma wrote a lengthy
Facebook post
on Monday admitting that he 'argued' with Sunil Grover and downplaying the alleged assault as a 'family matter.' In the post, Mr Sharma addressed Mr Grover as his 'elder brother' and wrote: "We spend a lot of time together rather than our families and sometime it happens in family. It's our family matter. We will sort this out."
On Tuesday morning, Sunil Grover tweeted a response saying: "Yes, you hurt me deeply"
From a friend, with love @KapilSharmaK9pic.twitter.com/2c7uQ5jqH5

— Sunil Grover (@WhoSunilGrover) March 21, 2017
The Kapil Sharma Show
co-stars were on a flight together on their way back from Melbourne. An eyewitness told
Bollywood Life
, "Without any provocation,
Kapil
pounced on Sunil Grover. We saw Kapil loudly abusing Sunil. Sunil kept quiet, probably thinking that Kapil would calm down after the outburst. But Kapil got more aggressive. His loud abuses could be heard right across the flight cabin. He then physically assaulted Sunil. That's when all hell broke loose. The flight attendants rushed to the spot. They wanted to handcuff Kapil in order to restrain him. To his credit Sunil stood by his unruly colleague and asked the cabin crew to overlook his drunken behaviour."
Speaking to mid-day, a source revealed that Mr Grover reportedly asked Mr Sharma to stop hurling abuses in the presence of other passengers but he was ignored. "A female passenger asked Kapil to keep quiet, so Sunil told him, 'Paaji tussi gaali mat do'. But, he got provoked and started abusing him. Sunil also got angry and stood up, but the other members stopped him. He then walked to the economy class where Kapil chased and hit him," mid-day quoted the source as saying.
This is not the first time Sunil Grover and
Kapil Sharma
have clashed. Sunil Grover quit Kapil Sharma's previous show
Comedy Nights With Kapil
because of payment issues.