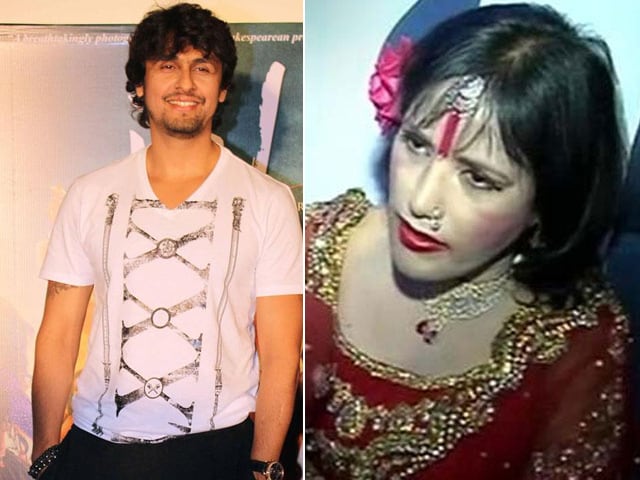 New Delhi:
Singer Sonu Nigam has found himself embroiled in the controversy raging around self-proclaimed godwoman Radhe Maa. After being savaged on social media for a series of tweets in which he defended Radhe Maa, the 42-year-old singer has explained himself in a lengthy Facebook post.
The post is unlikely to pacify those criticising him, especially these 'points' that he makes:
# Point 1
, I have no clue who she is. Never met her. But in my eyes, she's someone's wife, someone's daughter, and many others, call her a mother.
# Point 3
, a country that worships Kaali maa, who's depicted in the least clothes, (and I've been ok all my life with it, so should everyone else be), has the galls to judge someone's spiritual quotient by his/her attire! A country that has a
Mela
called Kumbh, where thousands of Naked Naga
Saadhus
roam around; a country that has Digaambar Jains who don't wear anything, for religious reasons, has issues with a woman merely wearing a short dress in her personal time! How does the number and length of clothes on a person define his or her Spiritual Quotient?
# Point 4, we have issues with her dancing on songs, most dancers like Hema Malini, portray Durga ballet on stage regularly. So? Big Deal? If her devotees have no issues with it, why should we be bothered? They see their God in a dancing Guru, many others see their God's in a SAI Baba Idol, or a Shiva Idol!! What then is a difference between those terrorists who call everyone else who don't follow Islam as Kaafirs, and us? Where does religious freedom go?
Sonu Nigam's original tweets, the match that lit the fire, were these:
Just my 2 pence. Kaali Maa is depicted in lesser clothes than Radhey Maa. Interesting that this country wants to sue a woman for her clothes

- Sonu Nigam (@sonunigam) August 16, 2015
Men Saadhus can walk naked. Dance embarrassingly, but it takes a rape charge to put them behind bars. So much for Gender equality? :)

- Sonu Nigam (@sonunigam) August 16, 2015
In the elaborate Facebook post, he also denounces what he calls the 'Twitter mob.'
The embattled Radhe Maa, real name Sukhvinder Kaur, came to the attention of social media when a picture of her in a red miniskirt surfaced on Twitter two weeks ago. Her 'godwoman' costume consists of red and gold finery, jewellery and a flower in her hair, finished with a trident in her hand. She is named in a dowry harassment case and is also accused of having driven a family of farmers to suicide after failing to improve their lot as promised. (Also Read:
Former Devotee Dolly Bindra Alleges Radhe Maa is a Threat to Her
)
Read Sonu Nigam's entire post here:
To my fellow Indians... To the people who both do, and don't have the honesty to read a message in it's real context,...

Posted by Sonu Nigam on Monday, 17 August 2015