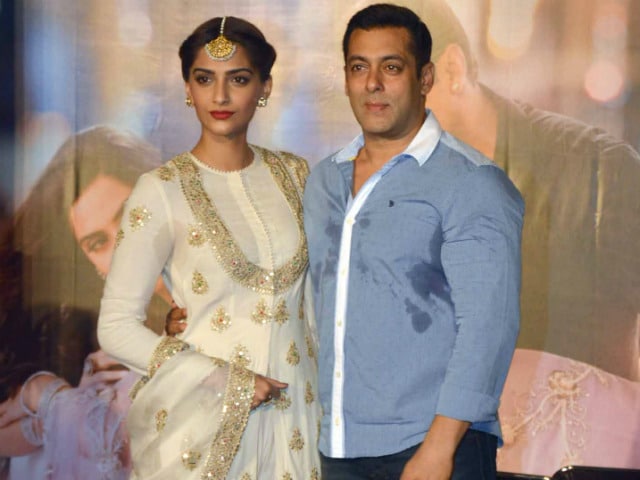 New Delhi:
Yes, Sonam Kapoor too has days when she says that she has nothing to wear. The actress, who looked svelte in leggings and a tee paired with a plaid shirt, said that she was relieved being dressed casual after two months of being swathed in designer wear for her films and promotions. "This is my look," said Sonam as she launched the first store of Aeropostale in New Delhi.
With the advance bookings of
Prem Ratan Dhan Payo
opening today, it seems that there was a lot of
dhan
coming the film's way. Laughing, she said, "Don't know why people are saying that but it feels great."
Eight years after
Saawariya
, the actress is sharing screen space with Salman Khan once again. So has he changed? "No not at all," said Sonam. "He is the same, for in
Saawariya
I worked with him for 20 days and for
Prem Ratan Dhan payo
it's been 220 days. That's a lot of time to gauge someone. He is star, but never once did he make me feel he was a megastar and that I was out of his league. The 'being human' tag seriously suits him."
When asked about the current dubsmash craze with the film's title track, Sonam said it was heartening to see the love and support from all: "Waheeda
ji
, Helen
ji
, Sri
chachi
(Sridevi), Shilpa , fans and even members of the media are supporting us in a time when people like putting the other down. Its heartening." (Also Read:
Helen, Waheeda Show Sonam How It's Really Done in Dubsmash Video
)
Laughing at Salman's confession that Sonam was better than his former heroines, the actress said, "He seriously didn't say that! I told him 'you want me to get attacked by their fan clubs or what?'" (Also Read:
Salman Khan: Sonam is as Beautiful and Talented as Madhuri, Aishwarya
)
On the topic of pay disparity in the film industry, the actress, who has already been vocal about it, clarified: "I am not in a position to demand pay parity, but those who are saying it is in a position, should stand together and bring that change."
"Very often what happens is when you quote a price and the person says that cannot be given, another actress calls and says 'Oh she turned it down? I will do it for a lesser price.' Women do that; they should not," she added.
Sonam, a youth icon, also expressed her views on the current issue of growing 'intolerance' in our country and award
wapsi
.
"Making the current government a villain is not right. There is always a grey side. The method is not what I agree with but I agree with what people are saying on awards being returned. It's not something I would do but calling someone anti-national is incorrect. I think both are wrong but to make people aware of what's not right, I think it's a great time to be in."