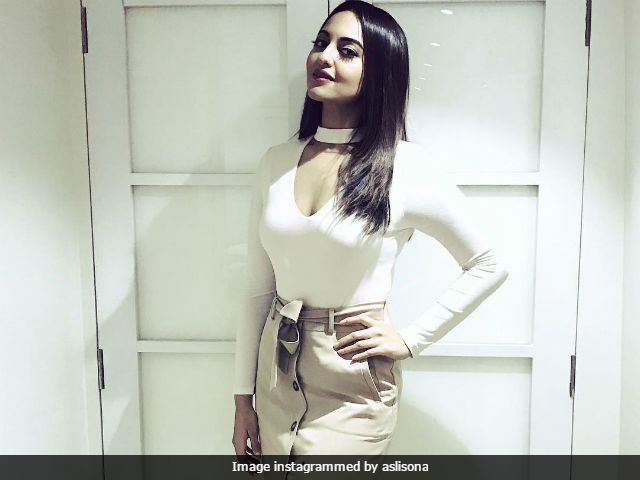 Highlights
"I've to be happy in what I am doing," said Sonakshi Sinha
"I won't succumb to any kind of pressure from anyone," said Sonakshi
"I don't get bogged down by failures," said Sonakshi Sinha
New Delhi:
Actress Sonakshi Sinha, whose film
Noor
released in theatres on April 21, told news agency PTI that she doesn't believe in pleasing everyone. The 29-year-old actress said that 'self-acceptance' is very important. "There are times in life when you reach a saturation point, trying to please everyone but yourself. Self-acceptance is very important. For me, I've always tried to be as real as I can because that's the only way I know. I learnt very early in life that you can't please everyone, so don't even try. Then you realise it's not worth it. I've to be happy in what I am doing, only then I'll be able to make others happy." PTI quoted Sonakshi Sinha as saying.
The
Akira
actress added that she doesn't give in to the 'pressure' of other's expectations. "If you like me, great, if you don't, it's fine. Which is why I've been able to work on my own conditions, do the work I want to do and not succumb to any kind of pressure from anyone," Sonakshi Sinha told PTI.
Sonakshi Sinha made her Bollywood debut with
Dabanng
opposite Salman Khan. The film won her the Filmfare Award for Best Female Debut. Sonakshi received critical acclaim for her performance in the film film
Lootera
. She was also praised for her performance in
Akira
and
Force 2
.
"I think it's very flattering that people understand what you're capable of and they expect that from you. It's very flattering when people say 'oh you should do stuff like that, there's so much you can do, your potential is so much. It will happen in time, but just not on their (audience) time. It will happen on the right time, when I want it to happen and am ready to do it," PTI quoted Sonakshi Sinha as saying.Talking about her journey in the film industry, the
Rowdy Rathore
actress said that she has learnt to handle success and failure from her father, Shatrugan Sinha. "I've seen my father handle, success and failure, in a very dignified, calm and composed manner. He is unfazed by these things. The very fact that I've seen him do this, I have also imbibed the quality where things don't really faze me. It's okay if certain things didn't go as planned. We will try again with next film. I don't get bogged down or bothered by these things (failure of films)," PTI quoted Sonakshi Sinha as saying.
Sonakshi Sinha added: "When a film does really well, you won't see me going on rooftops and shouting about it; when it (film) doesn't work you won't see me sitting in a corner and dwelling about it. Life goes on, irrespective. Success and failure is part of everybody's life. Be it a student in school or even the prime minister, anyone. If there are no ups and downs, what kind of life is that?"
Sonakshi Sinha will next be seen in Abhay Chopra's
Ittefaq
, co-starring Sidharth Malhotra.
(With PTI inputs)