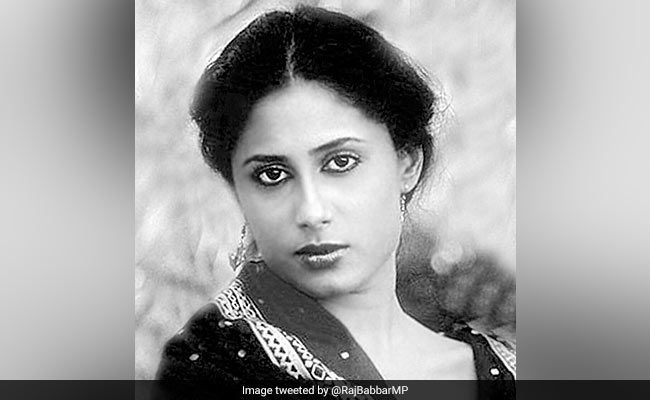 Highlights
Smita Patil died in 1986 - a month after Prateik was born
Smita Patil was just 31
Big B also remembered Smita Patil on her death anniversary
New Delhi:
Legendary actress Smita Patil was fondly remembered by her husband, veteran actor Raj Babbar, on her death anniversary on Wednesday. Smita Patil, known for her contribution to the Eighties' parallel cinema movement and her brilliant-yet-brief career in films, died a month after she gave birth to a son, 31 years ago. She was just 31. Smita Patil and Raj Babbar's son
Prateik Babbar
, who was brought up by his maternal grandparents, is now an actor. Raj Babbar and Smita Patil had a complicated history of togetherness - the actor was married to theatre personality Nadira Zaheer when he fell in love with Smita Patil. After her death in 1986, he returned to live with Nadira, with whom he has two children - Juhi and Arya - both actors.
31 years after her death, Raj Babbar tweeted he still misses her presence and even today, finds it difficult to believe that Smita Patil is no longer alive. "
Tumhari anupasthiti par ab abhi yakeen nahi hota
," read his tweet.
आज 31 साल हो गए ... जब तुम गयीं थीं तब तुम सिर्फ 31 साल की थीं ... लेकिन हमेशा अपने अनुभवों की सीमा के बहुत आगे खड़ी मिलीं ... जीवन में सब कुछ बहुत जल्द जी लिया ...

तुम्हारी अनुपस्थिति पर अब भी यक़ीन नहीं होता ... pic.twitter.com/km0Fe0IMFe

— Raj Babbar (@RajBabbarMP) December 13, 2017
Raj Babbar (who never divorced Nadira) and
Smita Patil's marriage
made them the centre of showbiz controversies in the Eighties - a phase which was once described by the actress as "private hell," stated a 2016
mid-day
report. Prateik Babbar, who made explosive
confessions about being a former drug addict
, termed his parents' complicated relationship as "a source of confusion". "Why were things like this? If mom had just lived longer and dad would have spent more time with me... things could have been, actually, would have been, different," he had told
mid-day
.
Amitabh Bachchan, Smita Patil's co-star of 1982 movies like
Shakti
and
Namak Halaal
, also remembered the actress on her death anniversary. Sharing an album of photos with the actress, he wrote about when Smita Patil had a bad dream about him just before he met with an accident on the sets of
Coolie
.
T 2740 - Remembering Smita Patil on her death Anniversary .. memorable films with her Shakti and NamakHalaal ..
She had a premonition of my Coolie accident a night before it happened .. called and told me of it .. pic.twitter.com/cQMrcYCf7W

— Amitabh Bachchan (@SrBachchan) December 13, 2017
Smita Patil will be remembered forever for her roles in iconic movies like
Arth
,
Manthan
,
Bhumika
and
Mirch Masala
, which was her last project before she died and released posthumously.
Nazrana
,
Avam
and
Thikana
are also some of her films, which released after her death.