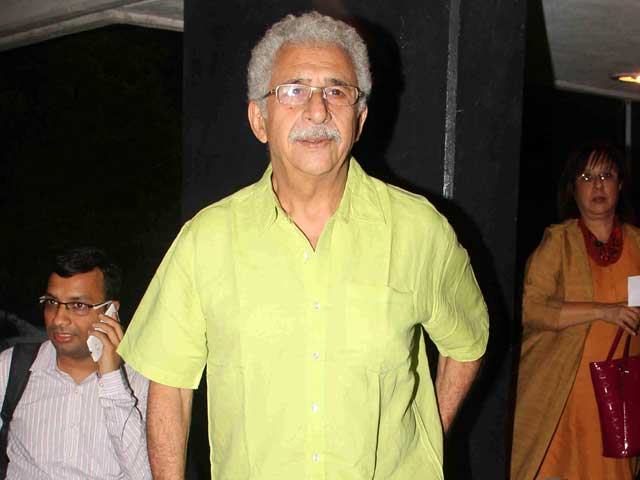 Mumbai:
Taking a dig at Naseeruddin Shah after he expressed regret over the strained relations between India and Pakistan, the Shiv Sena today asked the veteran Bollywood actor to seek his answers from those who had been victims of terrorist activities carried out from Pakistani soil. (Also Read: Will Naseeruddin Shah's Next Book be an Expose of Bollywood?)

In an interview to Bollywood Hungama, Mr Shah had expressed regret on the animosity between both the countries and had said that Indians were being brain-washed to believe that Pakistan was an enemy.

Mr Shah had stated in the interview that he kept visiting Pakistan because it was very important to have people-to-people contact between the two countries.


"The answer to his question on why is there so much hatred for Pakistan can be given by those who lost their near and dear ones during the 26/11 attacks. Pakistan continues to engage in bloodshed. Not only 26/11, the Delhi Parliament attack and terrorist attacks before that too were masterminded from Pakistan," the Sena said in an editorial in its mouthpiece 'Saamna.'
Taking exception to the actor's remarks, the party said Mr Shah had "lost" what he earned after years of hard work and that he was "never like this".
"Just a couple of days back, there was a terrorist attack at Kathua police check-post in Kashmir which killed an Indian soldier. Ask the soldier's parents why do they have so much hatred for Pakistan," the party stated, adding that Pakistan's intentions were for everyone to see when Pakistan Ambassador Abdul Basit invited separatists for dinner to celebrate Pakistan Day in the national capital.
"Inspite of all this, if you say that there should be no hatred for Pakistan, should we ignore the past violence that has been committed on Indian soil and what the country is planning to do in future?" the edit stated.
"What Naseeruddin Shah earned after years of hard work, he lost in an instant. We wonder if someone from Lahore has done black magic on him. He was never like this," the Shiv Sena added.