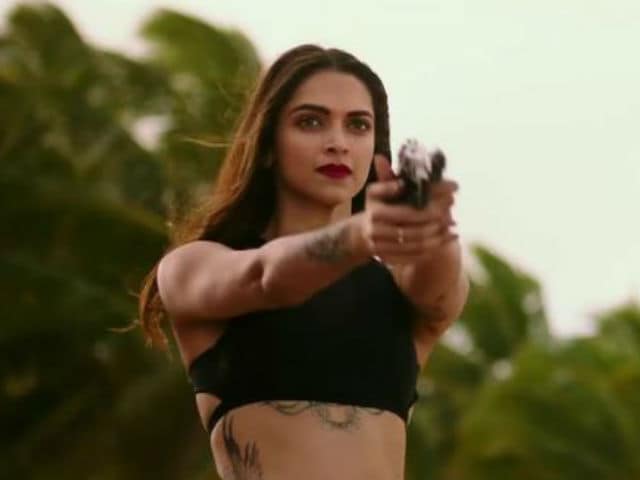 Highlights
Deepika Padukone stars as Serena Unger opposite Vin Diesel in xXx 3
#xXxTheMovie has been trending on Twitter for several hours
Vin Diesel who, as the titular Xander Cage, hogs the attention
New Delhi:
It's here,
it's finally here
. The first trailer of Deepika Padukone's Hollywood debut
xXx: The Return of Xander Cage
is out and the hashtag #xXxTheMovie has been trending on Twitter for several hours.
Deepika, 30, stars as Serena Unger opposite Vin Diesel who, as the titular Xander Cage, hogs the attention. Samuel L Jackson and Ruby Rose also appear.
Global domination, agreed much of Twitter.
But for real tho. When @deepikapadukone makes her debut in #xXxTheMovie .. Hollywood won't know what hit em. #shesoutoftheirleague

— Movie-Man (@LifeNeedsMovies) July 20, 2016
Finally the trailer of #xXxTheMovie is released and its damn awesome. @deepikapadukone is stunning along with @ninadobrev
A must watch.

— Amrit Ranjan (@iAmHrit) July 20, 2016
#xXxTheMovie trailer is good is an understatement...its rocking :-) @deepikapadukone proud of u

— catherine priyanka (@catherinepriyan) July 20, 2016
Action speaks louder than words...
Jhakaas trailer #xXxTheMovie

— Atharva kawley (@AtharvaKawley) July 20, 2016
There is admittedly little of Deepika. Some were disappointed.
this trailer disappointed me , coz dipu is not in this. So plz don't watch this trailer. #datasaver
#xXxTheMovie

— Tarun Vyas (@TarunVyas15) July 20, 2016
LOL.. deepika is seen for only 2 seconds in #xXxTheMovie trailer. Hollywood debut

— Naam to suna hoga (@A23P8) July 20, 2016
Deepika's presence was more in the teaser as compared to the trailer #xXxTheMovie

— Kunal Sen (@kunalsenengr) July 20, 2016
And there was this troll who a) didn't watch the trailer b) identified Nina Dobrev as Deepika.
It is clarified that deepika's role in #XXXtheMovie is that of a nerd. Pretty much similar to #YJHD No acting indeed pic.twitter.com/boTtg24xq1

— Kabali_leaker (@sundiCasm) July 20, 2016
xXx: The Return of Xander Cage
is the third film in the blockbuster series and is directed by D J Caruso. It releases on January 20.
Watch the trailer: