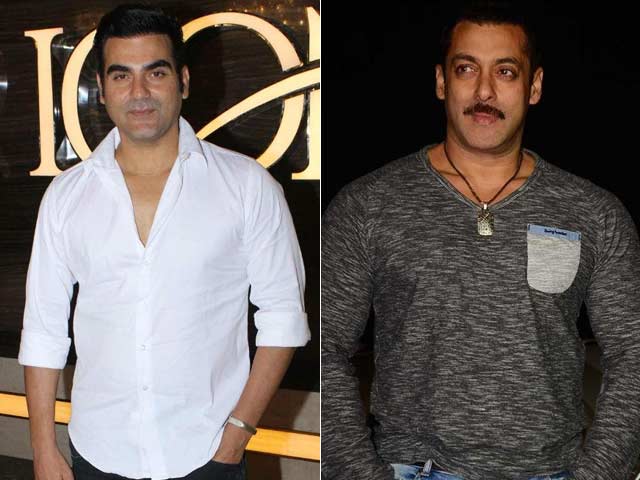 Highlights
Arbaaz said that Salman Khan's 'intention was not wrong'
I would hope that he gives a clarification: Arbaaz Khan
Salman is scheduled to attend the IIFA Awards in Spain this week
New Delhi:
To accompany actor Salman Khan's continuing silence after making the rape analogy that provoked such fury, his brother Arbaaz Khan has provided a baffling explanation of the 50-year-old's comment that serves only to amplify its insensitivity.
"When I used to walk out of the ring, after the shoot, I used to feel like a raped woman. I couldn't walk straight," Salman Khan told the
press
last weekend about filming the rigorous wrestling scenes of
Sultan
. On Tuesday, his brother suggested that it was the sort of commonplace comparison that is made in everyday conversation to illustrate how hard a working day has been.
Arbaaz's response failed to grasp the magnitude of what Salman said. "There are some things which we say while talking but we should look at the intention - why was it said? I definitely have no doubt that whatever Salman said, the intention was not wrong. It was just the kind of (statement) where we compare things - 'I worked like a donkey' so now people will say you used the word donkey so some animal activist will come after you," he said at an event in aid of his new film
Jeena Isi Ka Naam Hai
in Mumbai.
No Arbaaz, it was not that kind of comparison at all.
Salman Khan's remark has prompted widespread condemnation on social media and off it. His brother appeared to suggest that people were over-reacting. "Sometimes you say something out of context, your intention is not wrong but if you de-sensitise it and become over-sensitive about it, then you can create an issue over anything," he said.
Asked if the actor would apologise for the rape analogy, "jawab dena banta hain," said Arbaaz Khan. But Salman will apparently say sorry only if he feels the need to.
"I am sure Salman must have realised the comparison he did was not appropriate and for that, if he feels he needs to apologise, he will apologise. If he has said it by mistake, maybe he should probably give a justification. But I don't think I am entitled to make a comment and say 'he has to apologise.' I would hope that he gives a clarification because a controversy has been created. So jawaab dena banta hai, because people look up to him, he has got a lot of following, he is a youth icon," said Arbaaz.
After demanding that he apologise within a week, the National Commission of Women has summoned Salman Khan in Mumbai next Wednesday. On Tuesday, the actor's father Salim Khan tweeted:
Undoubtedly what Salman said is wrong, the simili, example and the context. The intention was not wrong.

— Salim Khan (@luvsalimkhan) June 21, 2016
Nevertheless I apologise on behalf of his family his fans & his friends. Forgiveness is to pardon the unpardonable or it is no virtue at all

— Salim Khan (@luvsalimkhan) June 21, 2016
To err is human to forgive divine. Today on Intl yoga day lets not run our shops on this mistake.

— Salim Khan (@luvsalimkhan) June 21, 2016
Salman Khan, who is scheduled to attend the IIFA Awards in Spain this week, plays a Haryanvi wrestler in
Sultan
, releasing this Eid.
Here's an audio recording of the interview - the 'raped woman' comment appears at 4.03. Later, Salman Khan also refers to women as a 'vice.'
Watch: