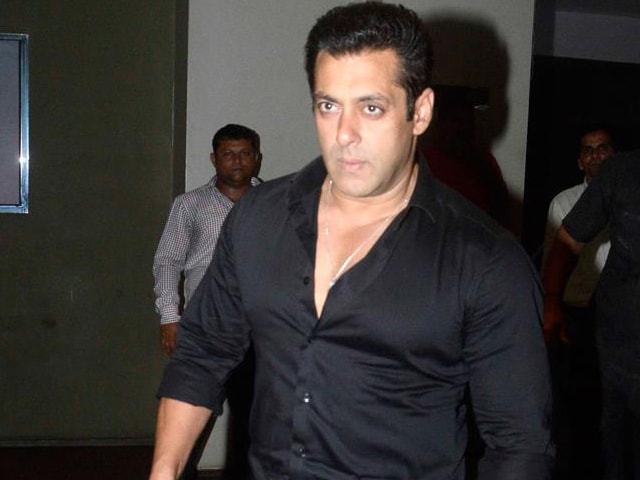 New Delhi:
Everything he does makes news but Salman Khan said that he does not take his stardom seriously because his image is due to the larger-than-life characters he portrays.
"I don't take stardom seriously at all. I don't behave like a star and I don't live like a star. It is how people perceive me," Salman told PTI. "I am wearing a t-shirt worth Rs 550, a jeans which is 15 years old and shoes which are there since past 20 years, that's it. What makes people treat me as a star is the image which is transferred to me through my on-screen characters," he added.
Salman, 49, has spent over 25 years in the film industry and is nothing less than a phenomenon for his fans, but the actor believes that the success that is often attributed to him is actually the hard work of other people. (Also Read:
Salman Khan's Stardom is 'Nothing New' For Sooraj Pancholi
)
"Thousands of people have helped me build this image. After spending so many years in the industry, I now have the liberty to select scripts, but before that I had no say. People like Sooraj Barjatya, my dad (Salim Khan) and Deepak Bahry have made me. I worked with so many directors and writers and learned what I should choose and what not. So, this is not me but the scripts I selected. The people I chose to work with are responsible for building this monster," he said.
Of dealing with let criticism Salman said, "I don't take criticism at all unless and until it comes from someone really close or someone who knows me well or if it comes from within me. People may criticise me but they will eventually realise they were wrong." (Also Read:
Salman Explains Why Hero Has a Khan-Sized Budget
)
The
Bajrangi Bhaijaan
star has been like a godfather to many Bollywood aspirants, be it Arjun Kapoor, Sonakshi Sinha or music composer Himesh Reshammiya.
He is stepping into the role of a mentor again by launching star kids Athiya Shetty and Sooraj Pancholi in his upcoming production
Hero
.
"A proper launch for a newcomer is very important. There have been films where someone was launched and the film worked, but what after that? The last person who was properly launched as a hero in the industry was Hrithik Roshan. Even Shahid Kapoor didn't have that launch," he said. (Also Read:
Salman Khan on Why Breaking Into Bollywood is Tougher Now
)
The superstar feels the pressure is more on him than the two newcomers as it is his decision to pick up the project and back it. "The pressure of the movie becoming a success is more on me. I don't want to let them down. The choice of the director and the script was mine. So, if anything goes wrong here, it comes on to my head. But, whatever is fate of the film is, I believe that these two are going to make it big. I saw something in these two which made me put my money on them. I am putting my money with an assurance of return," said the
Kick
star. (Also Read:
Why Salman Launched Athiya Shetty and Sooraj Pancholi in Hero
)
Directed by Nikhil Advani,
Hero
is the remake of 1983 film of the same name, starring Jackie Shroff and Meenakshi Sheshadri.
Co-produced by Salman's SKF banner along with Subhash Ghai's Mukta Arts, the movie will release on September 11.