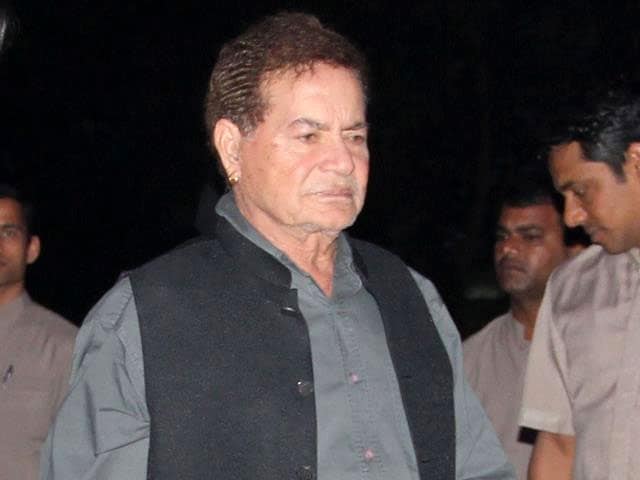 New Delhi:
Noted screen-writer Salim Khan has declined the Padma Shri, India's fourth highest civilian award, stating that he deserved more for his contribution to Hindi cinema. Mr Khan's name was left out of the government's list of Padma awards that was released on January 25 after he refused to accept the Padma Shri, saying that it was "unacceptable."

Mr Khan said in a statement, "I deserve more than a Padma Shri for my contribution to Hindi cinema. After media speculations I was prepared to accept Padma Bhushan but sorry Padma Shri is just not acceptable, so I refused to accept it."

Mr Khan was particularly upset that his former writing partner had already received two Padma honours. He said, "My partner Javed Akhtar has received both Padma Bhushan and Padma Shri." The Salim-Javed jodi wrote many of Bollywood's biggest blockbusters in the Seventies and Eighties and won Filmfare Awards for Zanjeer, Deewar and Shakti. They broke up in 1982 but reunited for 1987's Mr India, which was their last film together.

Mr Khan's Padma Shri comes in the same year as a much younger colleagues. Filmmaker Sanjay Leela Bhansali directed his first film in 1996 - Khamoshi, starring Mr Khan's son Salim - many decades after Salim Khan had written and re-written Bollywood history with films like Sholay.


The Padma Shri offer also coincides with the Padma Vibhushan for Amitabh Bachchan, who rose to stardom in Salim-Javed films like
Deewar, Zajeer, Don, Shaan
and
Trishul
apart from the landmark
Sholay
.
Bollywood legend Dilip Kumar is to receive the Padma Vibhushan this year as well, an honour that many consider inadequate. At 92, Dilip
saab
is senior to 72-year-old Amitabh Bachchan in both age and acting years, and fans have long been expecting a Bharat Ratna for him.
The Padma awardees also include others from the world of filmmaking and showbiz - Assamese filmmaker Jahnu Baruah will receive the Padma Bhushan while ad guru and lyricist Prasoon Joshi will get the Padma Shri.