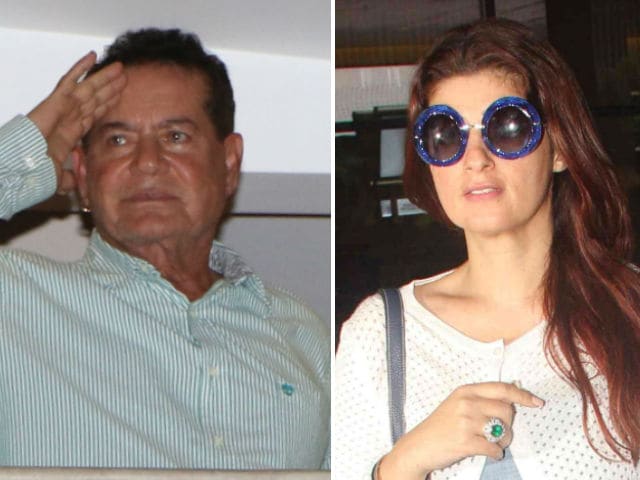 Highlights
Naseeruddin Shah said Rajesh Khanna was a 'very limited actor'
He apologised for his comments later
Twinkle Khanna had appealed for an end to the controversy
New Delhi:
The dust has all but settled over Naseeruddin Shah's
poorly-received comments
on Rajesh Khanna. And just when everybody was keeping calm and playing Pokemon like Twinkle Khanna suggested, writer Salim Khan has belatedly added his tweets to the several outraging about the late star being blamed for bringing 'mediocrity' to Bollywood.
The street outside Salim Khan's Galaxy Apartments home in Mumbai is almost always packed with fans hoping to catch a glimpse of his superstar son, Salman. On Wednesday, the 80-year-old writer appeared to launch a scathing attack on Naseeruddin Shah on Twitter:
An actor passed my house and saw a big crowd waiting for Salman he called me up to say he has not seen anything like this before.

— Salim Khan (@luvsalimkhan) July 27, 2016
I told him I have seen bigger crowds many times outside Rajesh Khannas house. He was the first and the last superstar of the millenium.

— Salim Khan (@luvsalimkhan) July 27, 2016
Anyone calling him a mediocre actor should know that no one can reach these heights unless he has something extraordinary to offer.

— Salim Khan (@luvsalimkhan) July 27, 2016
Frustration and bitterness are difficult to cure but carrying the same for such a long time is unheard of

— Salim Khan (@luvsalimkhan) July 27, 2016
No names - but who else could Salim Khan possibly have meant?
As one half of Salim-Javed, Mr Khan wrote films like
Andaz
and
Haathi Mere Saathi
that starred Rajesh Khanna, for whom the term 'superstar' was coined in the Seventies.
Some days ago, Naseeruddin Shah told
Hindustan Times
, "It was the 70s when mediocrity came in Hindi films. That's when the actor called Rajesh Khanna joined the industry. For all his success, I think Mr Khanna was a very limited actor. In fact, he was a poor actor. Intellectually, he wasn't the most alert person I have ever met. His taste ruled the industry."
His comment provoked an angry response from the late actor's daughter. "Sir if you can't respect the living, respect the dead - mediocrity is attacking a man who can't respond," tweeted Twinkle Khanna to a handle that bears Mr Shah's name but is unverified.
In later tweets, Twinkle reminded Mr Shah of Rajesh Khanna's body of work and then
appealed for an end to the controversy
. "Now can everyone go play Pokemon," she tweeted.
Mr Shah has apologized for his remarks
and was quoted by
India Today in a tweet
as saying, "I apologise to those who were personally offended, my intention was not to attack him (Rajesh Khanna)."