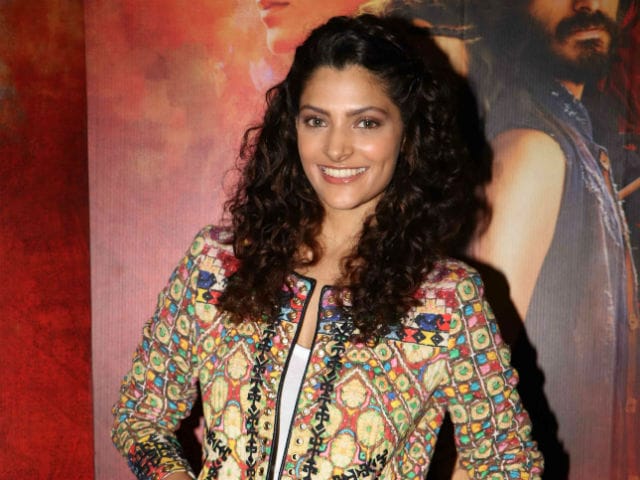 Highlights
Saiyami made her debut in Telugu film Rey
She is making her Bollywood debut opposite Harshvardhan Kapoor
She is niece to Shabana Azmi and Tanvi Azmi
Mumbai:
After the initial auditions for
Mirzya
, Saiyami Kher and one more girl were chosen and sent to Delhi to learn horse riding and get training under Adil Hussain.
It was only after three months that Saiyami was informed that she was selected to play Sahiban.
"He (Rakeysh Omprakash Mehra) wanted to be sure if I fit the bill. There was I and another girl, we both were sent to Delhi, we both had to learn horse riding."
"That experience was amazing. For three months I was in Delhi and I was coached by Adil Hussain and his guru Dilip Shankar," she added.
Mirzya
, which took quite some time in making, is slated to hit cinema houses on October 7. But for Saiyami this wait was not frustrating.
"When I was auditioning, I knew there are two of us - me and another girl - so its 50 - 50 chances. I looked at it as a learning experience. We shot for the film for 83 days. I was choked and teary when the shoot was over as I did not want it to get over," she said.
Saiyami said she did not feel nervous before the shoot of
Mirzya
, which is based on the Punjabi folklore
Mirza Sahiban
, as she had undergone training and rehearsals.
"Our rehearsals were so strong that when we started shooting we felt easy. He (Rakeysh) pampers his actors very much. He never yelled on the sets, he is so relaxed and calm while working. So, there was no burden, stress."
"The only time I felt little stressed was when I read the script and it had name of Gulzar
saab
. He is a legend. He is writing after 15 - 16 years. So I felt there is a responsibility, but Rakyesh sir made things easy for us," she said.
The model-turned-actress made her acting debut with Telugu film
Rey
and she says good films matter to her, not the language they are made in.
"I don't look at it as which language the film made in. If I get an offer to do a Chinese film, I will do it if the story is good. I did a film in South while I was in college. My
masi
and
bua
felt as I have grown up in Nashik, if I do a south film it will help me in opening up," she said.
After
Rey
, Saiyami started getting offers for more South Indian movies, but she choose to let go of them for her debut in Bollywood.
"The Hindi film industry is one of the biggest in the world. Who wouldn't want to do a film here in Hindi?," she said.
(Except for the headline, this story has not been edited by NDTV staff and is published from a syndicated feed.)