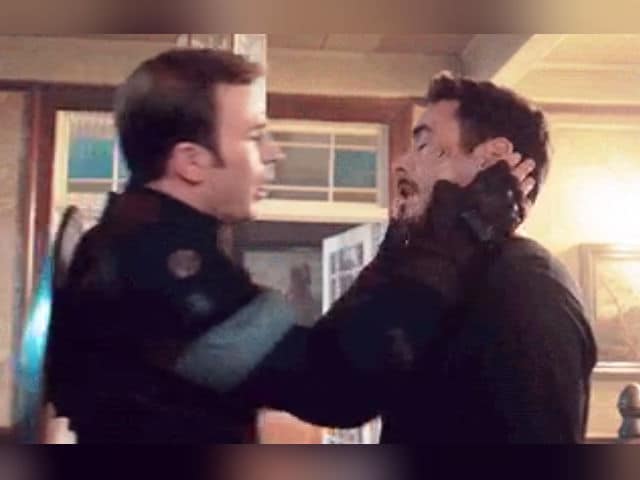 Highlights
Chris Evans posted a deceptively worded tweet to wish him
Chris Hemsworth shared two pics on Instagram
RDJ plays Iron Man in Spider-Man: Homecoming and Avengers: Infinity War
New Delhi:
Actor Robert Downey Jr's reputed to be as smart-mouthed IRL as he is as Tony Stark/Iron Man on screen, so his fellow Avengers seized gleefully on the chance to revenge themselves while posting birthday wishes for the actor, now 52. Chris Evans, who plays Captain America, posted this deceptively worded tweet: "Happy birthday to the legendary @robertdowneyjr. Mento. Life-saver. Friend. Hope your birthday is like a giant kiss on the lips." Which sounds super sweet until you check out the GIF he attached with it (let's not forget how fractious the
dynamics between Iron Man and Captain America
are in the films):
Happy birthday to the legendary @RobertDowneyJr. Mentor. Life-saver. Friend. Hope your birthday is like a giant kiss on the lips! pic.twitter.com/GK60sd8QLK

— Chris Evans (@ChrisEvans) April 4, 2017
Thor's posts hit like his hammer. Chris Hemsworth celebrated his co-star's birthday with two epic Instagram pictures:
Robert Downey Jr's birthday was yesterday - but it's still yesterday in USA today, so happy birthday, Iron Man.
Robert Downey Jr's impressive body of work includes a Oscar-nominated turns as Charlie Chaplin in
Chaplin
and a white actor pretending to be black in
Tropic Thunder
, as well as acclaimed performances in films like
Zodiac
and the two
Sherlock Holmes
films. But it's as Tony Star/Iron Man that he's now adored the world over and regularly tops the Forbes list of highest-paid stars. RDJ has starred as the billionaire playboy and inventor by day, superhero also by day in three
Iron Man
films, two
Avengers
films, the third
Captain America
film, and will also star in the
upcoming reboot Spider-Man: Homecoming
, playing mentor to the young Peter Parker. He will also reprise the role in
Avengers: Infinity War next year
and has signed on for the new
Doctor Dolittle
film.