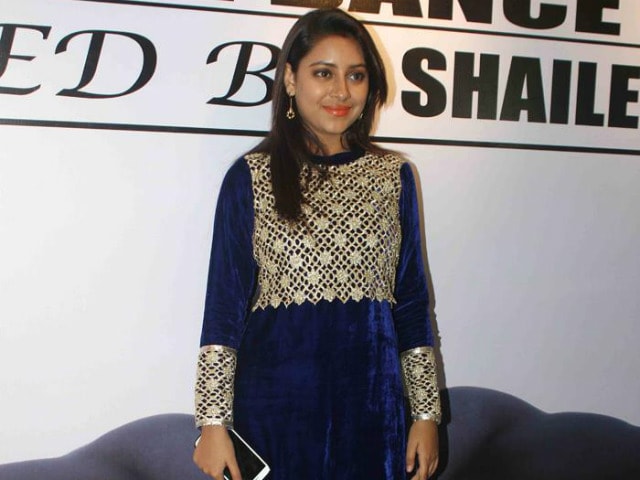 Highlights
Pratyusha Banerjee's death is being investigated as a possible suicide
Pratyusha Banerjee rose to fame after her role in Balika Vadhu
Pratyusha had participated in shows like Bigg Boss and Jhalak Dikhhla Jaa
New Delhi:
Balika Badhu
actress Pratyusha Banerjee, 24, died after allegedly committing suicide in Mumbai on April 1. Celebrities like actors Rishi Kapoor, Anupam Kher, Shilpa Shetty, Bhagyashree and Richa Chadha, filmmaker Karan Johar and television personalities Juhi Parmar, Digangana Suryavanshi and Sumona Chakravarti have tweeted mourning the death of Pratyusha.
Here's what they tweeted:
What a shame! Such a lovely person should suicide! Who knows the turmoil within her. RIP. pic.twitter.com/tIDk1QetF1

— Rishi Kapoor (@chintskap) April 1, 2016
Deeply saddened by the news about #PratyushaBanerjee. May God give her family the strength to deal with this loss.

- Anupam Kher (@AnupamPkher) April 1, 2016
Opened the papers to Pratyushas suicideSo young!Heartbreaking. They say "Sometimes even to live is an act of courage". #RIPPratyusha

- SHILPA SHETTY KUNDRA (@TheShilpaShetty) April 2, 2016
Extremely saddened to hear abt #PratyushaBanerjee. Such a young life! RIP@NeerjaBirla ur movement for depression detection is so imp.

— bhagyashree (@bhagyashree123) April 2, 2016
#pratushabanerjee The only serial I've watched was Balika. For her! Very sad. Only 24. It's too tough here for girls without family support.

— Simi Garewal (@Simi_Garewal) April 2, 2016
RIP #PratyushaBanerjee.We all live on the edge of disturbia,some fall in the abyss.Sad for parents,friends.Showbiz needs TLC !#Gonetoosoon

- RichaChadha (@RichaChadha_) April 1, 2016
Sad sad news of the loss of young #PratyushaBanerjee May God grant her soul serenity.

- Boman Irani (@bomanirani) April 2, 2016
Extremely saddened to hear about Pratyusha !!! May her soul rest in peace. God give her family strength in this difficult time..

- Arbaaz Khan (@arbaazSkhan) April 2, 2016
Still in shock n disbelief over Pratyusha's passing :-( heart goes out to her parents..

- ROHIT ROY (@rohitroy500) April 2, 2016
So sad to hear of #PratyushaBanerjee death! But media plz let her family mourn privately.. They have just lost a daughter!

— Geeta Basra (@Geeta_Basra) April 2, 2016
This is just so sad...and a wake up calm to families and friends who don't consider depression a medical condition...RIP #PratyushaBanerjee

- Karan Johar (@karanjohar) April 1, 2016
Shocked 2 hear tat a talent lke #Pratyushabanerjee is no more..suicide is not d end of a prblm..shw d guts 2 live as u shw in killing urself

- khushbusundar (@khushsundar) April 1, 2016
Deeply saddened to know abt #PratyushaBanerjee ..cant even fathom wht her parents must b going thru. .God give them strength. .RIP Pratyusha

- Juhi Parmar (@iamjuhiparmar) April 1, 2016
I am absolutely shocked with this news! RIP #PratyushaBanerjee I can't get over that I won't see ever again! U will be missed!

- DiganganaSuryavanshi (@DiganganaS) April 1, 2016
Deeply saddened by the tragic n shocking news.. Thoughts n prayers with the family..
RIP #PratyushaBanerjee

- Sumona Chakravarti (@sumona24) April 1, 2016
OMG #PratyushaBanerjee commits suicide. This is unbelievable n sad. Rest in peace !! pic.twitter.com/zFHc0deDWV

- Neetu Chandra (@Neetu_Chandra) April 1, 2016
Shocking..Cant believe this news..RIP #pratyushabanerjee

- Sambhavna Seth (@sambhavnaseth) April 1, 2016
So shocked to hear about #pratyushabanerjee suicide..Makes me think of Nafisa & Jiah. All beautiful, talented girls. This is Heartbreaking

- SOPHIE CHOUDRY (@Sophie_Choudry) April 1, 2016
No reason is ever justified,life is hard? So what!life is a blessing full of tests,never forget that!Condemn suicide #Pratyushabanerjee

- Nora Fatehi (@Norafatehi) April 1, 2016
Heartbroken about the news.... @PratsBanerjee ,... A sweet soul...

— GAUAHAR KHAN (@GAUAHAR_KHAN) April 1, 2016
Extremely shocking and sad news.. Rip pratyusha :(((

— Karishma Tanna (@karishma_tanna) April 1, 2016
RIP #PratyushaBanerjee pray for her parents,cant imagine what the mother must b going thru!make no mistake guys suicide is never the answer

- Nora Fatehi (@Norafatehi) April 2, 2016
Singer Mika Singh wrote on Twitter: "Extremely sadden by the news about Pratyusha ..May God bless her soul rest in peace.."
According to sources, Pratyusha died in Mumbai's Kokilaben Ambani Hospital on Friday after being taken there by her boyfriend Rahul Raj Singh. (Also Read:
Pratyusha Banerjee, Television's Beloved Anandi
)
Pratyusha was best known for her role as Anandi in popular TV show
Balika Vadhu
in which she starred from 2010 to 2013. Pratyusha also featured in shows like
Sasural Simar Ka
,
Gulmohar Grand
and
Kumkum Bhagya
. Pratyusha had participated in reality shows like
Bigg Boss
and
Jhalak Dikhhla Jaa
.