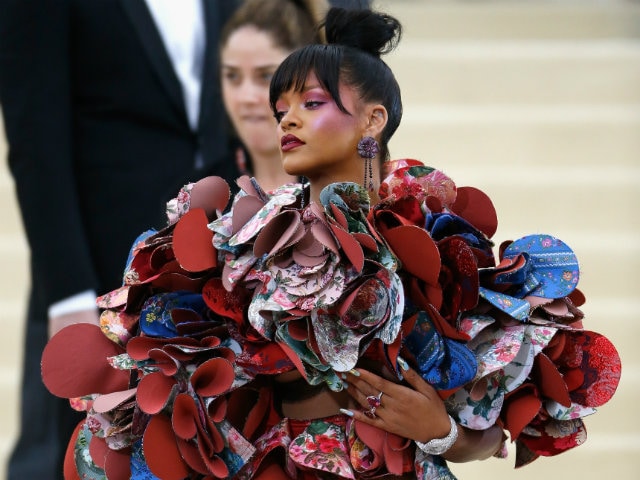 Highlights
Rihanna wore an ensemble designed by Rei Kawakubo
"She paid homage to Rei the way it was intended," read a tweet
Rihanna finished her look with dramatic eye make-up
New Delhi:
Pop queen Rihanna did it again.
Met Gala 2017 in New York
on Monday night saw Rihanna rock up in an eye-catching ensemble - an explosion of boldly printed fabric by Comme des Garcons, the fashion label headed by Japanese designer Rei Kawakubo, who showcased her new women's wear collection Art Of The In-Between at the event. Pink and red were the dominant shades in Rihanna's outfit with occasional splashes of white and blue. Rihanna cranked her look up a notch with dramatic eye make-up and a Samurai-inspired hairdo. Heads turned, and stayed turned. Meanwhile, "I love it. It feels f@#$@ing awesome," Rihanna told
Vanity Fair
on the Met Gala 2017 red carpet.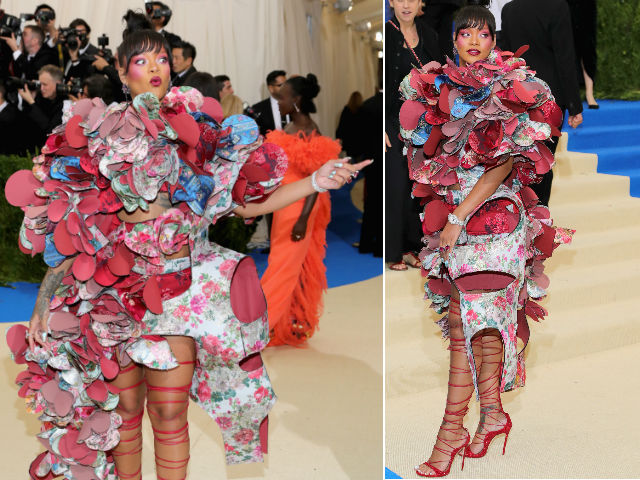 A section of Twitter applauded Rihanna for having done her homework and keeping up with the theme of the show:
RIHANNA HEARD THE THEME, DID HER HOMEWORK, STUDIED THE GUIDE, & THAT'S WHY SHE'S #1. SHE PAID HOMAGE TO REI THE WAY IT WAS INTENDED #MetGalapic.twitter.com/JmaVFuVQyN

— Doug Dimmadome (@ShaolinByNature) May 2, 2017
The spotlight shifted all the attention to Rihanna, Twitter assured us:
Rihanna won everyone else go home now, it's over #MetGalapic.twitter.com/CB9mA1Ad4n

— (@fentyy) May 2, 2017
Rihanna wins met gala 2017

— jesvicious77 (@jesvicious77) May 2, 2017
Rihanna was in a paper crush, said a tweet:
The 2017 Met Gala Arrivals https://t.co/rVa248nKGv Rihanna rolled out of a Montessori dumpster #MetGala@kathygriffin@nbcsnl

— @FreeThinking (@prf0406) May 2, 2017
Rihanna has had practice in stopping the
Met Gala in its tracks
- remember the yellow satin ensemble with a long fur-lined train by Chinese designer Guo Pei? On Monday, the Internet resurrected Rihanna's 2015 Met Gala look:
QUEEN OF THE #METGALA >>> @rihannapic.twitter.com/VIgpFhFLuZ

— LILO (@khaleesirkapoor) May 2, 2017
Fans also particularly loved Rihanna's pictures with Oscar-winning actress Lupita Nyong'o on the red carpet.
Lupita and #Rihanna
This is so beautiful. #MetGalapic.twitter.com/mE4uNndocz

— Leli (@feisty_rihanna) May 2, 2017
Joining Rihanna as part of Team Headturners were fellow singer Katy Perry and actress Priyanka Chopra. Also spotted at the met gala were Jennifer Lopez, Serena Williams, Salma Hayek and other celebs.
Rihanna received the
Humanitarian of the Year
at Harvard Foundation Awards this year.