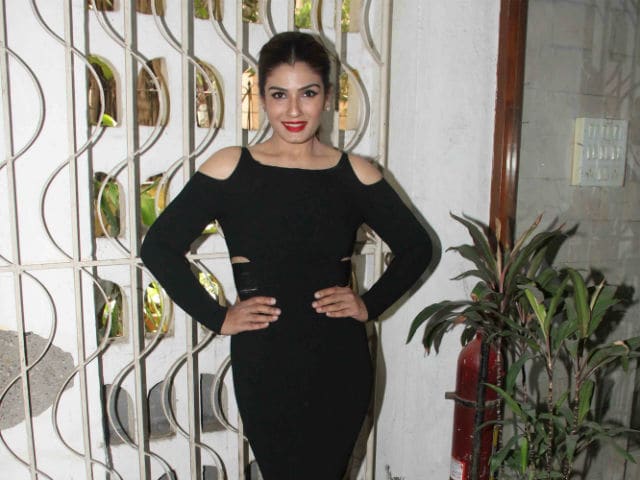 Highlights
"I'm content with myself and not trying to chase anything," said Raveena
"I've seen life, matured over the years, "said Raveena Tandon
Maatr is scheduled to release in theatres on April 21
New Delhi:
Actress Raveena Tandon is
awaiting the release of her film Maatr, directed by Ashtar Sayed
. The 42-year-old actress, who last made a cameo appearance in 2015 movie
Bombay Velvet
, told news agency PTI that she is 'not dying to work in films.' She said: "Films are not my life. They are part of my life. I have children, husband, home, parents, shows and endorsements. I have a lot of things to do. I am not dying to work in films. I would've signed all the films which came my way if I wanted to see my name every Friday. I am not interested in that."
In
Maatr
, Raveena Tandon will be portraying the role of a mother who takes the law in her own hands to fight for her daughter's justice. Speaking to PTI, the
Shool
actress said she wants more 'challenging' roles. "I am enjoying the work I am doing now and the mental space I am in right now. I am very content with myself and am not trying to chase anything. Being in my 40s, I think it's a great time for me. I've seen life, matured over the years, "she told PTI.
The trailer of Maatr, which released on March 30
, highlights the failure of the judiciary and the society to deliver justice in crimes against women.
Raveena Tandon told PTI: "I can feel the pain of this person that I am playing in the film. Life is the best teacher you can get."
She added that she doesn't bow down to commercial pressure."I am strictly against something like that (referring to item numbers). I've done films where the script was excellent but the end result was entirely different, because the makers added a lot of commercial elements in it like item numbers, which spoiled the films. This film has been shot realistically and the sensitivity has been retained. I don't know commercially how well we are going to do. But if the message goes through and people stand up and take note of what's happening, we will succeed," Raveena told PTI.
Maatr
has been shot in Delhi and Haryana. The film is scheduled to release in theatres on April 21.
After
Maatr
, Raveena Tandon will be seen in Onir's film
Shab
. The film also features Arpita Chatterjee, Ashish Bisht,Simon Frenay and Areesz Ganddi in pivotal roles.
(With PTI inputs)