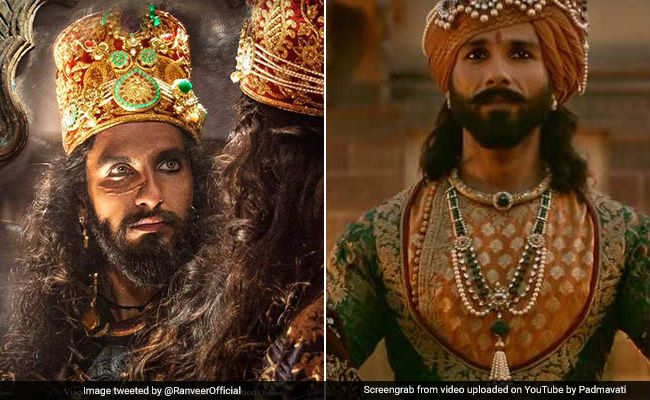 Highlights
"The colours used for Shahid's armour are red and gold," said the artist
Ranveer plays Alauddin Khilji while Shahid stars as Rawal Ratan Singh
Padmavati releases on December 1
New Delhi:
Padmavati, starring Deepika Padukone, Ranveer Singh and Shahid Kapoor,
is one of the most-awaited films of the year. The characters, their exquisite costumes and the sets of the film, without any doubt, look absolutely stunning.
Right from Deepika's jewellery and costume
, to Ranveer's kohled-eye and Turkish-inspired robes to Shahid's Rajput look, everything in
Padmavati
seems to be perfect. Deepika plays Rani Padmini of Chittor and Shahid stars as her husband Rawal Ratan Singh while Ranveer plays the emperor Alauddin Khilji.
mid-day
reports that in order to reflect Ranveer and Shahid's characters in their costumes, director Sanjay Leela Bhansali hired the services of a brand co-owned by artist Vipul Amar and psychologist Harsheen Arora for certain sequences of the film.
Harsheen Arora looked after the costumes for the final war sequence. "Ratan Singh was noble and honourable, Khilji believed in invasion and power. So, their attires need to reflect it," she told
mid-day
.
Citing the importance of how colours play an important role in depicting different personalities, she added, "The colours used for Shahid's armour are red and gold. Red depicts honour and an eagerness to serve one's land. Gold represents courage, generosity and passion. His chest plate is made of sculpted vintage leather and is infused with metal. In the lower half of the armour, we have used geometric patterns in leather. Rajputs preferred geometric designs over floral. As for Khilji, the depiction of lions in his armour are to enhance the darkness of the character".
Harsheen Arora and Vipul Amar also told mid-day that they consulted an engineer to check on the mobility in the armours. "It was imperative that the actors be able to perform stunts while wearing them," they said.
Meanwhile, designers Rimple and Harpreet Narula, who worked on Deepika, Ranveer and Shahid's costumes earlier told news agency IANS that it was 'challenging' for them to design the costumes. "Working in tandem with Sanjay Leela Bhansali's vision, we immersed ourselves in the history of that particular period during the initial sessions in which he took us through the script and the characterisations. It is an extremely challenging task to envision and design garments," they said.
The trailer of
Padmavati
released earlier this month and has so far been viewed over 50 million times.
Padmavati
releases on December 1.