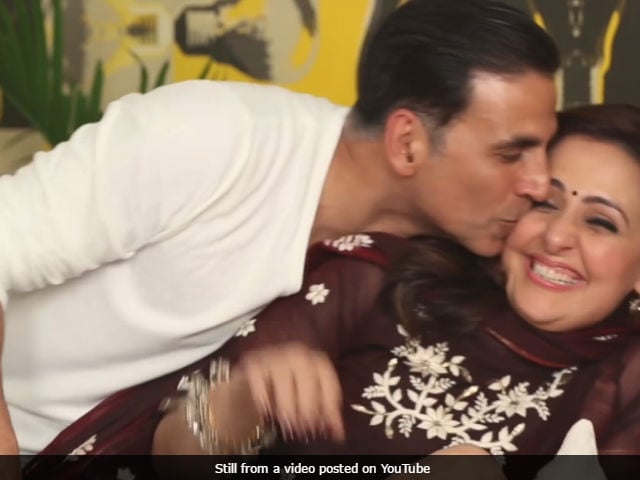 Highlights
Alka says the best gift her brother's given her is 'self-empowerment'
Alka says Akshay's motto has always been 'take care of your own safety'
Last year, Akshay and Alka featured in a funny video on Raksha Bandhan
New Delhi:
Akshay Kumar and his sister Alka Bhatia made Raksha Bandhan special for the actor's fans two years in a row. Last year, they put together a hilarious video highlighting the funny aspect of a brother-sister relationship while on Rakhi 2017 Alka talked about an important life lesson Akshay gave her even before he became Akshay Kumar from Rajiv Bhatia. On Raksha Bandhan 2017, Alka Bhatia talked about how her brother 'Raju' annoyed her when they were young and this story (told in a video titled
Direct Dil Se
) is bound to bring a smile to your face. "Mummy-Daddy would insist that if I had to stay out late or attend a late night party then I'd have to ask Raju to accompany me. He would never go with me and always say, '
You have to take care of your own safety
.' And I would be like, 'Why?'" Alka added that after their father died Akshay quietly took over his responsibilities but his motto never changed. "I realized the value of his words when I sent my daughter to study abroad. When she asked me if 'Everything will be okay,' I replied, like Raju, 'Everything will be fine, just take care of your own safety'."
"This has been the greatest gift my brother has given to me and my daughter - The strength to be self-sufficient. Thank you, Raju. I love you," she added. The Rakhi special video ended with the message: "This Raksha Bandhan, do not protect your sister. Empower her."
Akshay Kumar's sister Alka married Hiranandani Builders' Surendra Hiranandani in December 2012.
Here's the video Akshay and Alka made on Raksha Bandhan last year.
Akshay Kumar features in
upcoming film Toilet: Ek Prem Katha
, which releases this Friday. The film also stars Bhumi Pednekar, Anupam Kher and Divyendu Sharma and it is directed by Shree Narayan Singh.