New Delhi:
Highlights
The teaser of 2.0 released on Ganesh Chaturthi today
The teaser introduced audience to the film's principal characters
2.0, also starring Akshay Kumar, releases on November 29
So, the teaser of Rajinikanth's 2.0 added techno-flavour to the celebration of Ganesh Chaturthi. Cine-lovers have been waiting for this glimpse of the Shankar-directed film for several months and this Ganesh Chathurthi, Bappa fulfilled everyone's wishes. The teaser, which released on Thursday morning, introduced us to the principal characters of the film - Dr Vaseegaran and Chitti (both played by Rajinikanth) and their nemesis, a bird-man like villain played by Akshay Kumar. So, was the wait for 2.0 worth it? Hell, yeah! If you've seen the teaser then you know what we mean. If not, then let us count the ways.
#1: The Special Effects:
The film's release had been postponed several times because director S Shankar did not want to compromise on the quality of special effects. In less than a minute we were convinced that Shankar and team 2.0 were right. The flying cell phones assembling into a terrorising bird-like figure, which appears to be in Akshay Kumar's control, was just magnificent.
The phenomenon, which Dr Vaseegaran says is beyond the control of science and requires the intervention of 'superpowers,' generates the right amount of curiosity. The audiences' curiosity is not in vain as the filmmakers follow it up with a stupendous villain onscreen.
The army of robots, all made in the image of Rajijnikanth, form all sorts of weapons and cages to control the monster hell-bent on wrecking the world as we know it. Isn't that fantastic:
No wonder 2.0 is one of Asia's most expensive film with a reported budget of Rs 500 crore.
#2 Akshay Kumar
Pictures of Akshay Kumar, when he was filming 2.0 released on the internet, upset several fans of the actor because of the OTT make-up. However, the teaser explains a lot about Akshay Kumar and his character - reportedly an ornithologist, whose experiment backfires on him. Akshay's character can control this awesome bird-like monster, which can give Chitti a run for his money (those of us who've seen Enthrian (or Robot) know that it's a huge deal).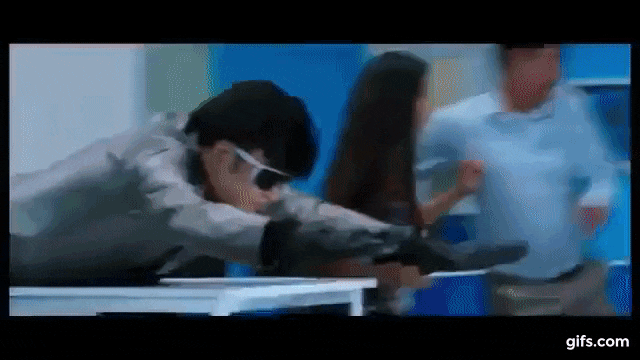 #3 Chitti, The Saviour
Shankar's Enthiran, which release almost two decades ago, had several Frankenstein references, especially with respect to the creation of Chitti and how it went rogue. At the end of Enthiran, Chitti was dismantled because it wreaked havoc in a city after his programming was corrupted by Dr Vaseegaran's rival Dr Bohra. However, Chitti is reassembled and he teams up with Dr Vaseegaran to fight a common enemy.
We're loving it because the end of Enthiran just couldn't have been the end of Chitti.
#4 Rajinikanth
2.0 will be Rajinikanth's second release of the year after Kaala. Rajinikanth hasn't released multiple films in a year for a while now; Actually, since 1995 when the superstar was seen in three films - Tamil films Baassha and Muthu and Hindi film Aatank hi Aatank. We're not counting 2014's Kochadaiiyaan and Lingaa releasing in the same year because the former was motion capture animation film.
Kaala, which released in June this year was directed by Pa Ranjith. It wasn't a blockbuster but the Dhanush-produced film performed reasonably well at the box office.
In 2010, Enthiran shook the box office with its exemplary performance at the ticket window. Chances of 2.0's fate mimicking Enthiran's run are more, considering the audience's curiosity regarding how the filmmakers will take the franchise forward.
Watch the teaser of 2.0 here (if you've not seen it already):
2.0 after several delays is now expected to hit the screens on November 29. The film also stars Amy Jackson, Adil Hussain and Sudhanshu Pandey.
Get Breaking news, live coverage, and Latest News from India and around the world on NDTV.com. Catch all the Live TV action on NDTV 24x7 and NDTV India. Like us on Facebook or follow us on Twitter and Instagram for latest news and live news updates.