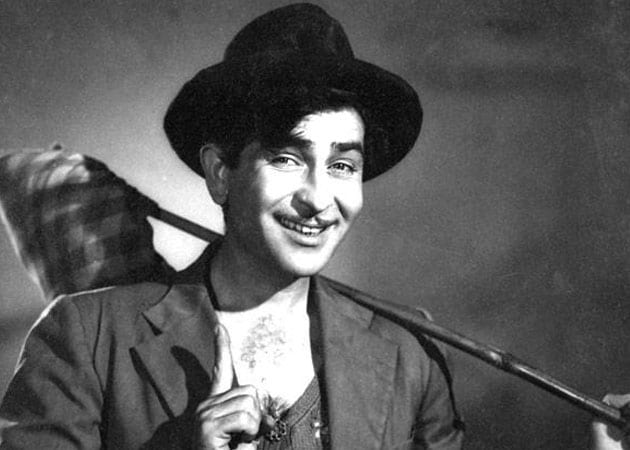 Highlights
Raj Kapoor, the second generation of Bollywood's first family, died on June 2, 1988 after a long and illustrious career before and behind the arc-lights. 25 years later, here are nine things about the Showman only a true fan would know:
1. Raj Kapoor began as a clapper-boy. When Kidar Sharma was filming Vishkanya (1943), Raj would always comb his hair and pose in front of the camera before giving the clap. When Kidar Sharma was shooting a close-up as the sun was going down, Raj caught the hero's beard in the clapperboard and it came off. Sharma lost his temper and reportedly slapped young Raj in front of the whole unit.
2. Raj's real name was Ranbir, shared by his grandson. Raj was the middle name of all the Kapoor brothers. Shammi's real name was Shamsher Raj and Shashi was really Balbir Raj.
3. Raj Kapoor first wanted to become a music director before making it big as an actor. He became the youngest film director at 24.
4. Raj Kapoor set up R K Films in 1948. The first film from the banner was Aag, directed by him and the first starring himself and Nargis. But it was Barsaat that brought the studio success, and a scene featuring Nargis, Raj and a violin became the R K Films' logo.
5. The success of Barsaat allowed Raj Kapoor to buy R K Studio in Chembur. The first scene shot in the studio was the dream sequence from Awaara.
6. At Dilip Kumar's wedding, one of the most glamorous of it's time, the baraat was led by Prithviraj Kapoor, Raj Kapoor and Dev Anand.
7. Hrishikesh Mukherjee was inspired to make Anand after he became haunted by the thoughts of close friend Raj Kapoor's death after the actor-director fell ill.
8. The scene where Rishi meets Dimple in her house in Bobby was inspired by the real life meeting between Raj Kapoor and Nargis.
9. Awaara (1951) was the first movie to feature three generations of Kapoors in its cast - Diwan Basheshwarnath (Raj Kapoor's grandfather), Prithviraj and Raj. In 1971, Randhir Kapoor repeated the formula with Kal Aaj Aur Kal starring himself, dad Raj and grandfather Prithviraj.
Watch: Raj Kapoor, the making of a 'Showman'
New Delhi:
Raj Kapoor, the second generation of Bollywood's first family, died on June 2, 1988 after a long and illustrious career before and behind the arc-lights. 25 years later, here are nine things about the Showman only a true fan would know:
1. Raj Kapoor began as a clapper-boy. When Kidar Sharma was filming
Vishkanya
(1943), Raj would always comb his hair and pose in front of the camera before giving the clap. When Kidar Sharma was shooting a close-up as the sun was going down, Raj caught the hero's beard in the clapperboard and it came off. Sharma lost his temper and reportedly slapped young Raj in front of the whole unit.
2. Raj's real name was Ranbir, shared by his grandson. Raj was the middle name of all the Kapoor brothers. Shammi's real name was Shamsher Raj and Shashi was really Balbir Raj.
3. Raj Kapoor first wanted to become a music director before making it big as an actor. He became the youngest film director at 24.
4. Raj Kapoor set up R K Films in 1948. The first film from the banner was
Aag
, directed by him and the first starring himself and Nargis. But it was
Barsaat
that brought the studio success, and a scene featuring Nargis, Raj and a violin became the R K Films' logo.
5. The success of
Barsaat
allowed Raj Kapoor to buy R K Studio in Chembur. The first scene shot in the studio was the dream sequence from
Awaara
.
6. At Dilip Kumar's wedding, one of the most glamorous of it's time, the
baraat
was led by Prithviraj Kapoor, Raj Kapoor and Dev Anand.
7. Hrishikesh Mukherjee was inspired to make
Anand
after he became haunted by the thoughts of close friend Raj Kapoor's death after the actor-director fell ill.
8. The scene where Rishi meets Dimple in her house in
Bobby
was inspired by the real life meeting between Raj Kapoor and Nargis.
9.
Awaara
(1951) was the first movie to feature three generations of Kapoors in its cast - Diwan Basheshwarnath (Raj Kapoor's grandfather), Prithviraj and Raj. In 1971, Randhir Kapoor repeated the formula with
Kal Aaj Aur Kal
starring himself, dad Raj and grandfather Prithviraj.
Watch: Raj Kapoor, the making of a 'Showman'