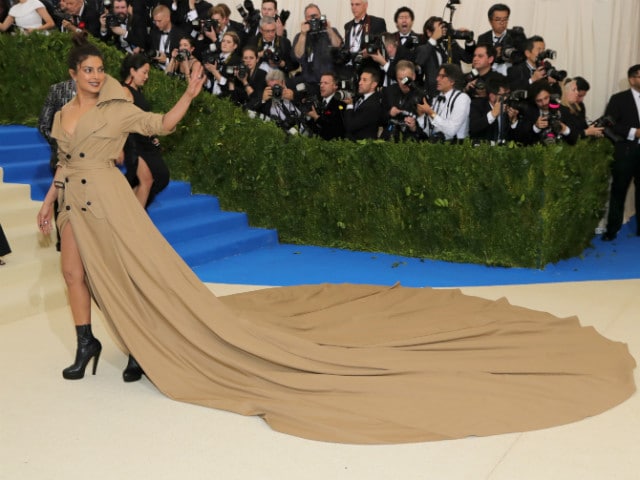 Highlights
Priyanka Chopra attended the Met Gala in custom Ralph Lauren trench coat
Priyanka's dress became the subject of Twitter jokes on Monday
Now, Priyanka shared a list of her favourite jokes on Instagram
New Delhi:
Priyanka Chopra's Met Gala look
amused Twitter to no extent
, resulting in jokes ranging ranging from hilarious to all-the-more-hilarious. Well, Priyanka is not offended at all, and in fact, Instagrammed a list of her favourite jokes, applauding the creativity of the netizens. "Good to know that the dress serves more purposes than just fashion. Hope to continue to stir your creative juices," she wrote in the caption. Met Gala, considered one of fashion's biggest nights,
is hence Priyanka's favourite
, she wrote. "You literally can push the envelope for fashion anywhere! Until next time," Priyanka signed off on the post. On her list of favourites, Priyanka included memes which placed her outfit in situations like a family picnic - the train would serve as the blanket. Well, Priyanka also loved that one meme, which provided a graphic representation of Priyanka's train as the land for the Egyptian civilisation.
Priyanka Chopra walked the red carpet at the Met Gala, wearing a beige trench coat-style ballgown with a 20-foot train (yes, you read it right). The ensemble is courtesy Ralph Lauren studious. Soon after Priyanka's appearance on the red carpet, Twitter compared her dress to a huge mop, a bedsheet and more. Twitter also said the train could serve as a gigantic tent and may even be used as a parachute.
"Drumroll," said Priyanka:
The 34-year-old actress also offered a glimpse of the perks of wearing a custom Ralph Lauren ensemble. In her Instagram post, she clearly explained how she easily avoided the inconvenience that could have been caused by the never-ending train of her trench coat. Priyanka arrived on the Met Gala red carpet on Monday evening and let her hair down at the after party later.
Meanwhile, Priyanka also revealed how the idea for the dress was conceptualised:
Priyanka, who also posed with
Nick Jonas on the red carpet
, shared a glimpse of the after-party:
The Met Gala red carpet also saw Priyanka Chopra's
Bajirao Mastani
co-star
Deepika Padekone turn heads in an icy white satin dress
. Deepika and Priyanka, who were not photographed together on the red carpet, rubbed shoulders with the likes of Katy Perry, Jennifer Lopez, Rihanna and Salma Hayek at the fashion gala.
Priyanka Chopra, who is currently in New York for promotional duties of her Hollywood debut
Baywatch
, is awaiting the release of the film this month in the US.
Baywatch
, co-starring Dwayne Johnson and Zac Efron, will hit screens India on June 2.