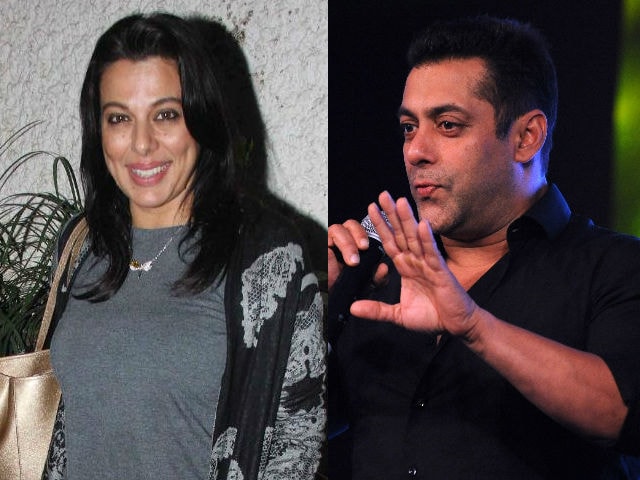 Highlights
Is India getting oversensitive? Pooja Bedi tweeted.
Salman Fan's managed to get #SalmanMisquoted trending on Tuesday
Salim Khan also tweeted saying Salman's intention was not wrong
New Delhi:
What's the big deal about
Salman Khan
using a rape analogy to describe the shattering effects of filming
Sultan
, some people on Twitter want to know. Among these, mostly fans of the actor who managed to get the hashtag #SalmanMisquoted trending on Tuesday, is actress Pooja Bedi who has demanded to be told what is so outrageous in the 50-year-old actor's comment and wants everyone to stop overreacting.
Is India getting oversensitive? Is he wrong?," asked the 46-year-old Bigg Boss alumnus in separate tweets, using a 'fat as an elephant' comparison as absurd as the 'working like a donkey' excuse mustered by Salman's brother Arbaaz.
Is @BeingSalmanKhan controversy justified? If I say I fee FAT as an elephant will @PetaIndia file a case? is India getting OVERSENSITIVE?

— Pooja Bedi (@poojabeditweets) June 21, 2016
If @BeingSalmanKhan's intention was 2 use the term rape to describe something that shatters someone physically and emotionally, is it wrong?

— Pooja Bedi (@poojabeditweets) June 21, 2016
agreed it's not the best simili, but if 2 @BeingSalmanKhan rape is the most brutal physical experience anyone could experience, is he wrong?

— Pooja Bedi (@poojabeditweets) June 21, 2016
She also suggested that much of the fury provoked by Salman's comment belonged to politicians and media houses gleefully making hay:
As educated & sensible people we need 2 calmly see how much of this "protest" against @BeingSalmanKhan is for political gain&Media TRP!

— Pooja Bedi (@poojabeditweets) June 21, 2016
Ms Bedi's tweets have been returned to sender by users infuriated by her defence of Salman:
So, according to @poojabeditweets divorce calls for sensitivity but reaction to rape analogies is oversensitive pic.twitter.com/23iao1uL1V

— Sanjay (@oothikicha) June 21, 2016
NO POOJA BEDI. After any scene shoot you don't feel the same pain & agony of a raped woman! https://t.co/qBsmLIaSBe

— Paras Rishi (@parasrishi) June 21, 2016
@poojabeditweets@BeingSalmanKhan yes because salmon khan faced the same emotional, physical and mental trauma that a rape victim endures

— famous (@WastedHoe) June 21, 2016
Her opponents included this woman who asked Ms Bedi these heartbreaking questions:
@poojabeditweets Ms Bedi. As an actual victim of rape, I want you to tell ME how it's ok for people to compare exhaustion with rape.

— Aishwarya S (@Hyper_aice) June 22, 2016
@poojabeditweets I have PTSD as a result of mine. Tell ME how Salman's training is the same thing as what happened to me.

— Aishwarya S (@Hyper_aice) June 22, 2016
In response to her interrogators, Pooja Bedi issued this clarification:
Yes! @parasrishi u have to be sensitive to THE ISSUES & VICTIMS. Not sensitive to Analagys, Metaphors &similes @oothikicha

— Pooja Bedi (@poojabeditweets) June 21, 2016
It earned her a tweet correcting the spelling of 'analogies.'
Salman Khan has been summoned by the National Commission of Women next Wednesday for saying: "When I used to walk out of the ring, after the shoot, I used to feel like a raped woman. I couldn't walk straight."
He has not done so yet. His father Salim Khan tweeted on Tuesday:
"Undoubtedly what Salman said is wrong, the simili (sic), example and the context. The intention was not wrong. Nevertheless I apologise on behalf of his family, his fans & friends. Forgiveness is to pardon the unpardonable or it is no virtue at all. To err is human, to forgive divine. Today on Intl Yoga Day, let's not run our shops on this mistake."