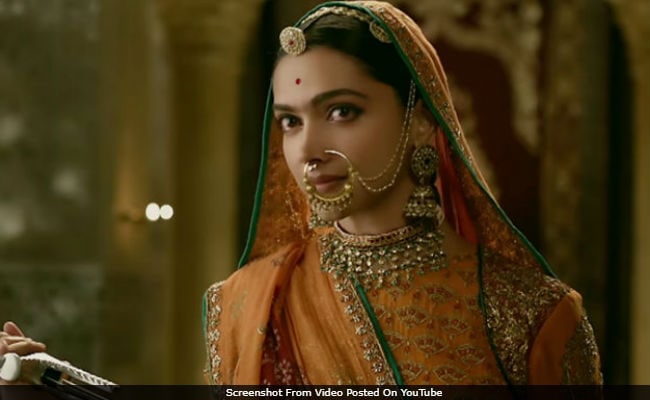 Highlights
Padmaavat stars Deepika as Rani Padmini of Chittor
Padmaavat was earlier titled Padmavati
The trailer garnered 20 million views on YouTube in a day
New Delhi:
Sanjay Leela Bhansali's magnum opus
Padmaavat, starring Deepika Padukone, Ranveer Singh
and Shahid Kapoor, opens tomorrow (January 25). The much-awaited film was cleared for a release earlier this month, after several Rajput groups protested against the period drama.
Padmaavat
tracks the story of Rani Padmini of Chittor and how she, along with other Rajput women, performed
jauhar
after Alauddin Khilji invaded Chittor fort.
Padmaavat
's release date was postponed by over a month. (Sanjay Leela Bhansali has initially planned to open the film last year on December 1). Amidst several protests and controversies, Deepika, Ranveer and Shahid's
Padmaavat
hits the screens this Thursday. Excited about watching the film? Ahead of the release, here are 10 things to know about
Padmaavat
.
The Three Principal Characters - Deepika, Ranveer And Shahid
Padmaavat
stars Deepika as Rani Padmini, Ranveer as Alauddin Khilji and Shahid as the Rajput king Maharawal Ratan Singh (Rani Padmini's husband). The film is about Deepika, Shahid and Ranveer's tale of love, infatuation and revenge.
Padmaavat
is the trio's first film together.
About Rani Padmini And Padmavat
Wikipedia tells us that Maharawal Ratan Singh married Rani Padmini after a war. And, Alauddin Khilji, the ruler of the Khilji dynasty, had heard stories about her and attacked Chittor fort to win her over. In the battle, Ratan Singh died and before Khilji could capture Chittor fort, Rani Padmini and several Rajput women performed
jauhar
to protect their honour.
Padmavat
is an epic fictionalized poem written by Malik Muhammad Jayasi in the 16th century. It describes Padmini as an exceptionally beautiful princess of the Singhal kingdom. Director Sanjay Leela Bhansali, who appeared before CBFC's parliamentary panel, had said that his film is based on the poem.
Their Costumes
The characters in
Padmaavat
, their exquisite costumes and the sets of the film, without any doubt, are every bit stunning. The costumes for Deepika Padukone, Ranveer Singh and Shahid Kapoor have been designed by Rimple and Harpreet Narula. Of Deepika's look, Harpreet told news agency IANS, "You would find many Sri Lankan influences in the attire. To get the nitty-gritty of the styling and drapes of the period correct, we turned to old miniature paintings, murals and frescoes as well as regular visits to the Jaipur and Calico museums to get the touch and feel right."
For Shahid's costumes, everything from the clothing styles prevalent in the 14th century to the weather of Chittor was kept in mind while for Ranveer to resurrect Alauddin Khilji, the designers researched the costumes and textiles in areas such as Afghanistan and Kazakhistan, Central Asia and around Turkey.
Ghoomar
The dance steps in
Ghoomar
song has perhaps been one of the most difficult part of the film for Deepika. She tweeted this during after revealing the song. (And we loved Deepika in it).
However, after several protests, in the new version of
Ghoomar
,
Deepika's mid-riff has been covered through special effects
.
Padmaavat
's Trailer Was Most Viewed In 24 hours
The trailer of
Padmaavat
(earlier titled
Padmavati
) released in October. Soon, the trailer garnered 20 million views on YouTube, making it the most-viewed trailer in just 24 hours. Deepika, Ranveer and Shahid thanked people via tweets.
Overwhelmed by the love pouring in. Humbled and thankful. Love you all #PadmavatiTrailer@FilmPadmavatipic.twitter.com/fTgzIqCfix

— Shahid Kapoor (@shahidkapoor) October 10, 2017
Also,
Padmaavat
is the first Indian film that will have a global IMAX 3D release.
Additional Cast
Apart from the impressive cast,
Padmaavat
also stars Jim Sarbh, Aditi Rao Hydari, Raza Murad and Anupriya Goenka. Jim Sarbh, who plays a slave-general of Alauddin Khilji, told IANS, "In
Padmaavat
, you are pushed to be as good as the frame, to have a presence that lives up to the grand, operatic, intricate, beautiful frame that you inhabit. I love trying to rise to that."
Deepika Padukone, Ranveer Singh And Sanjay Leela Bhansali's Third Collaboration
After the success of
RaGoliyon Ki Rasleela Ram-Leela
and
Bajirao Mastani
, Deepika, Ranveer and Mr Bhansali teamed up yet again for
Padmaavat
. Both the stars won several accolades for the previous two films.
The Padmaavat Controversy
Several months ago, when
Padmaavat
went on floors, members of the Rajput outfit disrupted the film's shooting in Jaipur, vandalized the sets, burnt outfits and manhandled Sanjay Leela Bhansali. Similar incident was reported from the team's Kolhapur shoot.
Later, the Rajput groups alleged that Mr Bhansali had distorted certain historical facts in the film and it allegedly portrays a romantic sequence between Rani Padmini and Alauddin Khilji, which he denied.
After the Deepika, Ranveer and Shahid's first looks were unveiled, the Rajput groups burnt posters outside Rajmandir Cinema Hall in Jaipur. A
rangoli
dedicated to the actress was also vandalised in Surat.
The Release Date, CBFC Modification And Supreme Court Verdict
The Central Board of Film Certification (CBFC) passed
Padmaavat
after suggesting five edits (including the title) and January 25 was declared as the release date. However, several states imposed a ban on the film's release. Last week, the Supreme Court stayed the ban, giving
Padmaavat
a green signal for nationwide release. Still, the Karni Sena is opposing the release.
Padmaavat
vs PadMan
Padmaavat
was earlier supposed to clash at the box office with Akshay Kumar's
PadMan
. While Sidharth Malhotra's
Aiyaary
changed its release date,
PadMan
braced for a clash. However, last week, after a request from team
Padmaavat
, Akshay shifted
PadMan
's release date to February 9.
Have you booked you tickets for
Padmaavat
yet? Tell us in the comments section below.