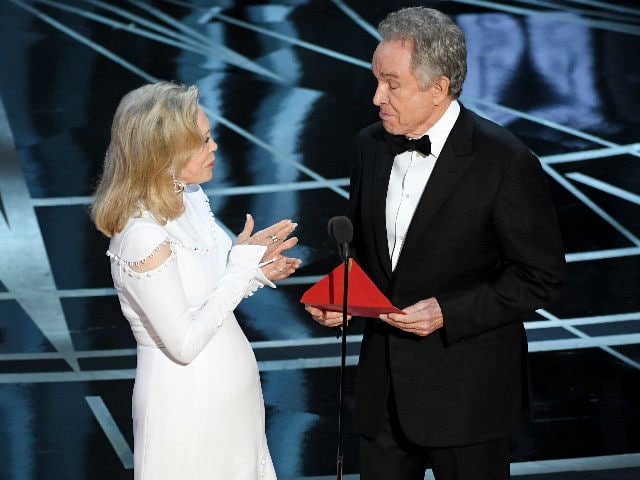 Highlights
No one's forgetting the Best Picture goof up any time soon
Sunny Pawar was pretend-Simba with Jimmy Kimmel as pretend-Rafiki
Mahershala Ali is the first Muslim actor to win
New Delhi:
Hollywood's top awards night, the Oscars, ended quite satisfyingly in chaos and high drama. Warren Beatty,
unfairly maligned for an embarrassing mix-up
, has a story to dine out on for the rest of his life after he was handed the wrong envelope and
La La Land
won, then lost the Best Film Academy Award to
Moonlight
. Forever more,
Oscars 2017
will be remembered by this gaffe - but there other noteworthy moments as well, from first-time host Jimmy Kimmel's gags and Matt Damon-trolling to junior
Lion
actor Sunny Pawar's all-round adorableness; from Mahershala Ali's historic win to some
Back To The Future
nostalgia.
And The Oscar Goes To La La....Oh, Wait, Moonlight:
Moments after the audience muted their television sets and started discussing
La La Land
's glory, they realized something was wrong. Presenter Warren Beatty returned to interrupt the speech that the producers of the film were some 45 seconds into - suddenly, there was another envelope being waved and in the audience, the
Moonlight
team were hugging.
Moonlight, not La La Land, was the Best Film
- Warren Beatty and co-presenter Faye Dunaway were given the wrong envelope. Mr Beatty hilariously signed off, saying he's never returning to the stage again, but what was done was done. Twitter took milliseconds to explode into tweets skewering Mr Beatty, the Academy and
La La Land
and even
Bollywood celebs like Karan Johar, Rishi Kapoor and Shabana Azmi joined in
. This semi Steve Harvey moment (remember Miss Universe 2015 pageant) definitely had to be on the top of this list.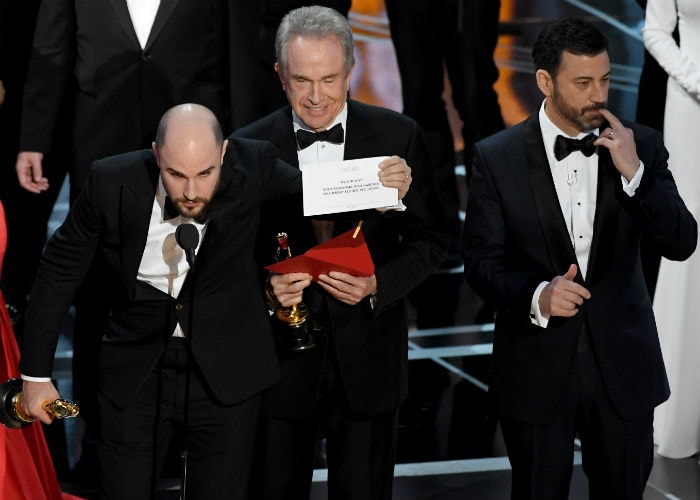 Mahershala Ali's Moment In The Moonlight
After years of #OscarsSoWhite, every major category had a black nominee this year and two actors won. Viola Davis won Best Supporting Actress for Fences but it was Mahershala Ali's Best Supporting Actor for his performance as the drug dealer Juan in
Moonlight
that was doubly special - he is now the first Muslim actor to win an Oscar. "I want to thank my teachers, my professors. One thing that they consistently told me... 'It's not about you. It's about these characters. You are a servant. You're in service to these stories and these characters'," he said while accepting his award, reports AFP. Born Mahershalalhashbaz Gilmore, the actor later converted to Islam and changed his name.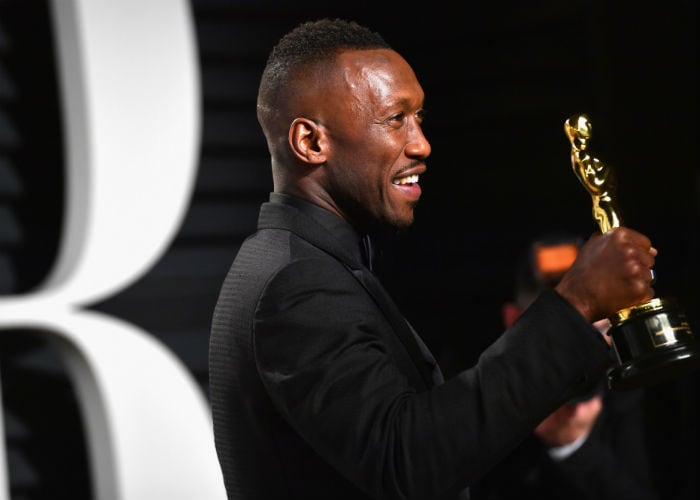 Not Matt Damon's Day
Actor Matt Damon was in for a rough night. The actor produced Casey Affleck in his Oscar-winning role in the film
Manchester By The Sea
. But when Matt Damon came onto stage with his colleague and friend, Ben Affleck (also Casey's brother), to present the screenplay Oscars, he was introduced as 'a guest' by host Jimmy Kimmel, with whom Matt has a hilarious and long-running faux feud. "Really... 'guest'," were Matt Damon's first words on stage. Jimmy then sabotaged Matt's stage time by conducting the orchestra into playing the end-cue music louder and louder and louder until Matt Damon gave up. Jimmy Kimmel earlier told The Hollywood Reporter, "My goal is to keep him offstage." He kind of accomplished that.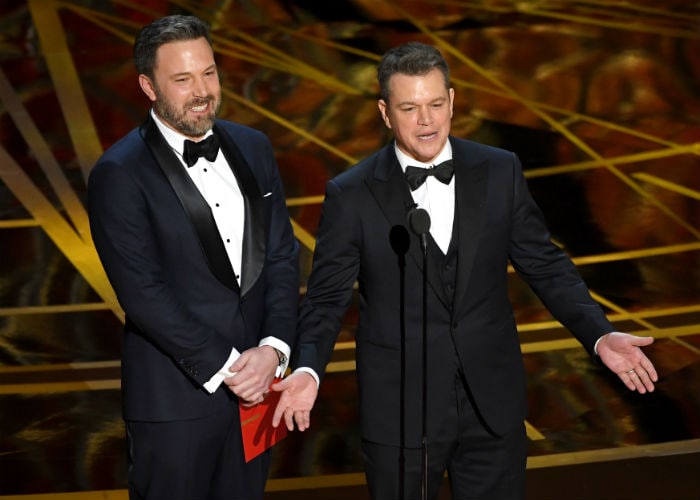 Lion and The Lion King
Jimmy Kimmel played Rafiki (of
The Lion King
) with
child artiste Sunny Pawar
as Simba. Sunny Pawar, 8, stars in the critically acclaimed
Lion
as the younger version of Saroo Brierley, played by Dev Patel. This was just one of many moments in which Sunny brought adorable to the Oscars. There was a bro-chat with Best Actor nominee Andrew Garfield on the red carpet and his cute but pro photocall session.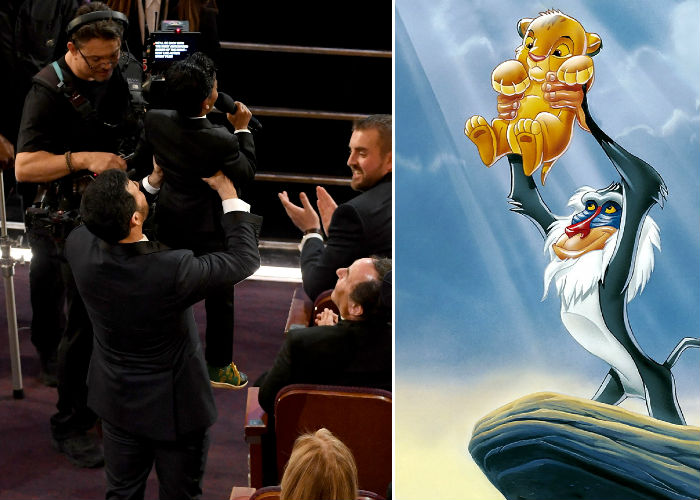 Jimmy Kimmel's Wake Up Tweet To POTUS
Once, before he was US president, Donald Trump used to live tweet the Oscars. This year he was busy. There were subtle and direct political jibes but POTUS seemed oblivious. He wasn't watching the Oscars, as White House Press Secretary Sean Spicer already said, reported
US Magazine
. But that didn't stop Jimmy Kimmel from tweeting 'Hey @realDonaldTrump u up? (sic)' to the POTUS.
Hey @realDonaldTrump u up?

— Jimmy Kimmel (@jimmykimmel) February 27, 2017
No reply from Mr President, yet.
Let There Be Candy, Said Kimmel And Candy There Was
Ellen DeGeneres bought pizzas for her guests, Jimmy Kimmel got candy (tough to pick a favourite). Okay, it's a tie. For an extra thrill, Jimmy had the candy descend on his guests attached to mini-parachutes. Also, there were doughnuts. "Now that we have the doughnuts, can we have some coffee too," the host yelled, to everyone's amusement. Candy, at least, is dandy.
THESE REMIND ME OF THE PARACHUTES FALLING DOWN IN MJ PART 2 #Oscarspic.twitter.com/EDQyNmCvZy

— puta (@KATNlSSLAWRENCE) February 27, 2017
Who Let The Tourists In?
Jimmy Kimmel threw open the gates of Los Angeles' Dolby Theatre in the middle of the award ceremony to some unsuspecting sightseers. He played tour guide to a group of tourists and introduced them to celebs like Nicole Kidman and Ryan Gosling. In one of the best gags of the evening, the host got actor Denzel Washington appointed as best man for a Chicago-based couple's wedding. Denzel upped the game and administered their wedding vows on the spot. Watch how it happened:
Best tour ever! pic.twitter.com/93FmNZgMPu

— The Academy (@TheAcademy) February 27, 2017
Back To The Future At The Oscars
There was a nostalgic flavor to the Oscars this year -
La La Land
channels old Hollywood, former Best Film nominee
Bonnie And Clyde
celebrate 50 years which is why its stars Warren Beatty and Faye Dunaway were presenting, and
Back To The Future
star Michael J Fox graciously allowed co-presenter Seth Rogen to share his DeLorean when they arrived on stage to give out the Best Film Editing Oscar. It was a replica of the original DeLorean but hey, any day you get to ride in a time machine with Marty McFly is a good day. A yay moment. Meanwhile, little Sunny Pawar wasn't the only one wearing sneakers with his suit - Seth Rogen wore
Back to theFuture
-style trainers as well.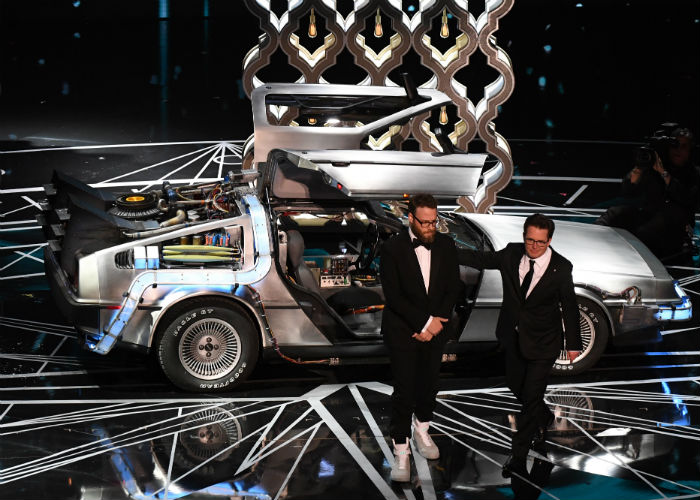 Kiss And Tell
Actress Nicole Kidman, who was nominated in the Best Supporting Actress category for
Lion
, arrived with her husband Keith Urban and they kissed. It was dreamy.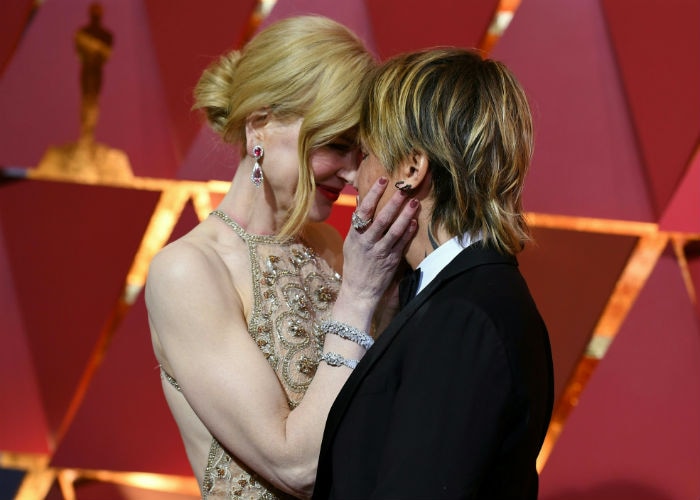 Photobombing Never Goes Out Of Style
When Justin Timberlake photobombed his wife Jessica Biel. Super cool.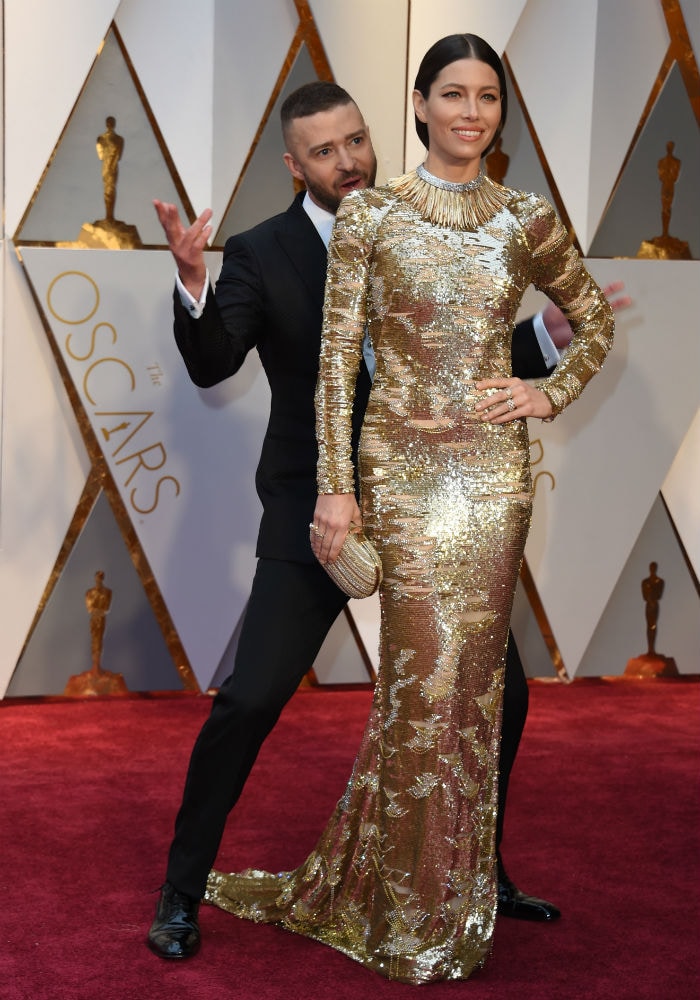 The
89th Academy Awards
were held in Los Angeles on Sunday night. The big winners of the night were
La La Land
, which won six awards, and
Moonlight
, which took home three trophies.