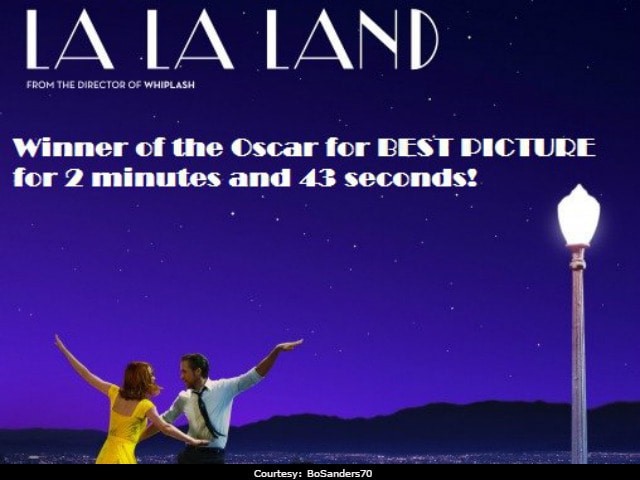 Highlights
'So what happened last night? Envelopegate?' read a tweet
Some tweets referred to Steve Harvey
A reference was also made to Harry Potter and Dumbledore
New Delhi:
The big Oscar fumble
was closely witnessed by social media on Monday, resulting in multiple memes and hilarious tweets, mostly featuring Ryan Gosling's and Emma Stone's
La La Land
. Damien Chazelle's musical might have cheered for
Moonlight
's Best Picture win on stage and wept silent tears backstage but there's no escaping Twitter, which is filled with hilarious tweets about
La La Land
's short-lived Oscar glory. The Best Picture announcement goof-up was actually a mysterious case of switched envelopes.
In the climactic Oscar moment
, actors Warren Beatty and his
Bonny And Clyde
co-star Faye Dunaway were handed the wrong envelope to read out the Best Film Oscar winner from. They announced
La La Land
as Best Film only to be corrected by the film's producer Jordan Horowitz
some two minutes later
. "Guys, guys, I'm sorry. No. There's been a mistake. Moonlight, you guys won best picture. This is not a joke," said Mr Horowitz, praised later by
Moonlight
director Barry Jenkins for his graceful handling of the chaos that the
89th Academy Awards
were instantly plunged into.
Twitter is thrilled by the Oscar blooper and been sharing tweets that will crack you up. We have curated some for you. You're welcome.
So what happened last night?#envelopegate#Oscars#Moonlight#LaLaLandpic.twitter.com/Ev3bA6KdNY

— TonyBet Canada (@tonybetcanada) February 27, 2017
Congrats to #MoonlightMovie#LaLaLand and all the #Oscars winners and nominees! pic.twitter.com/qN4C5ZUxJ9

— Picturehouse Central (@CentralPictureH) February 27, 2017
Some tweets invoked Steve Harvey, who announced the wrong Miss Universe winner last year.
#BestPicture craziness at the #Oscars this year. #lalaland & #moonlight ...totally HARVEY'D! pic.twitter.com/gfsIx4YzCQ

— The Flippist (@TheFlippist) February 27, 2017
Some compared
La La Land
's loss to a failed slam dunk attempt.
la la land pic.twitter.com/UAnSYTGdKz

— PRADEEPNEXTDOOR (@IamHarshDave) February 27, 2017
La La Land
, let it out:
me when i see pieces praising #LaLaLand's crew for being gracious instead of recognizing #Moonlight as one of the greatest films ever made: pic.twitter.com/dZXqaP76HM

— MAX IM A KOOPA (@meakoopa) February 28, 2017
Some even referred to Harry Potter and Professor Dumbledore, who often rephrased his verdicts in "light of recent events."
This is the best one. #Oscars#lalaland#Moonlight#epicfail#lol#HARRYPOTTERpic.twitter.com/0EjMjub2iK

— Dice Prophet (@DiceProphet) February 27, 2017
Meanwhile, Ryan Gosling's reaction was also spotted and shared.
Sometime a #photograph says a thousand words. Tonight this one of @RyanGosling was one of them. #Oscars#lalaland#BestPicturepic.twitter.com/jrZG5fgKgz

— Snappr (@snappr_co) February 27, 2017
And then he did this:
"I switched the envelopes.." #Oscars2017#Oscars#moonlight#LALALAND#AcademyAwards#oscarsfail#ryangoslingpic.twitter.com/0NUkrcenxk

— Saad Siddiqui (@PakiWisdom) February 27, 2017
The hunt is on for Faye Dunaway, who actually read out
La La Land
's name from the card (the envelope contained the Best Actress' name - La La Land's Emma Stone):
While #WarrenBeatty apologized on stage, where was #FayeDunaway who was the one who actually announced #LaLaLand as the winner? pic.twitter.com/3O6VmzzGS8

— Victoria Green (@ohthattori) February 27, 2017
La La Land
won the highest number of Oscars with six wins, including Best Director for Damien Chazelle and Best Actress for Ms Stone. There was no Oscar for Ryan Gosling, nominated in the Best Actor category, the prize going to Casey Affleck for
Manchester By The Sea
.
Moonlight
went home with three Oscars, including Best Supporting Actor for Mahershala Ali and Best Adapted Screenplay.