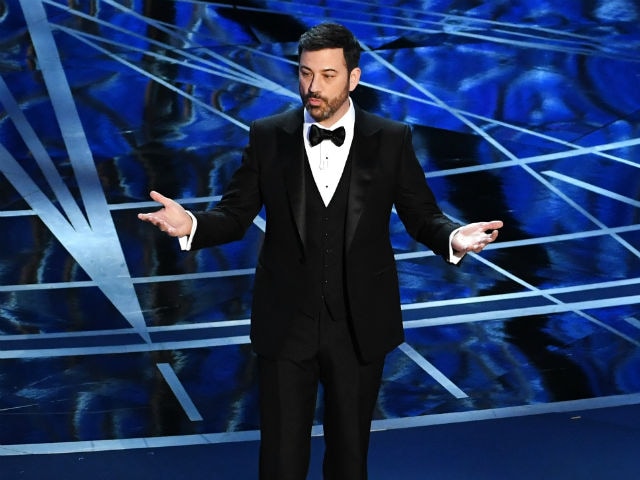 Highlights
Jimmy Kimmel took a huge sarcastic swipe at President Donald Trump
Jimmy Kimmel called Trump a racist in opening Oscars monologue
He showed support for "overrated" Meryl Streep in her spat with Mr Trump
Jimmy Kimmel, who is hosting the 89th Academy Awards
, opened the glitzy award ceremony with a salvo of jokes targeting President Donald Trump on a night expected to be as remarkable for political protest as for its celebration of Hollywood. After Justin Timberlake opened the gala with some upbeat music, Mr Kimmel wasted no time putting the A-list audience in a political state of mind. "This broadcast is being watched live by millions of Americans and around the world in more than 225 countries that now hate us," joked the 49-year-old late talk show host. The late-night comedian quipped that Trump, who pulled off a political upset win with his campaign that targeted immigration, had taken the heat off Hollywood and its annual gala.
"I want to say thank you to President Trump. Remember last year when it seemed like the Oscars were racist? That's gone, thanks to him," Jimmy Kimmel said.
Kimmel also made mention of Trump's retort that Meryl Streep
was "highly overrated", by recalling her record 20 nominations, and urging everyone to offer her a standing ovation. The audience willingly complied.
Jimmy Kimmel Tweeted his opening monologue
My opening monologue from the 89th #Oscars... @TheAcademy@ABCNetworkpic.twitter.com/rXNU8aZfcd

— Jimmy Kimmel (@jimmykimmel) February 27, 2017
The first prize of the evening went to Mahershala Ali, who bagged the Oscar for best supporting actor for
Moonlight
, a poignant coming of age story about an African American growing up in the tough projects of Miami. He thanked his wife Amatus Sami-Karim for "being such a soldier" during the awards season and giving birth to their first child, a girl, four days ago.
Nostalgic musical La La Land
leads the charge for golden statuettes with 14 nominations at the start of the night, and is the clear front runner for the prestigious Best Picture award.
La La Land
, film which stars Emma Stone and Ryan Gosling as an aspiring actress and a struggling jazz musician who fall in love in Los Angeles, has charmed critics the world over and returned more than 10 times its 30 million dollars budget.
La La Land
will vouch for Best Picture honours with eight films including
Moonlight
, alien thriller
Arrival
and family drama
Manchester by the Sea
.
The
most intriguing race is for Best Actor
, which for weeks looked like a lock for
Manchester by the Sea
star Casey Affleck until a late surge by Denzel Washington (
Fences
), who now has the momentum. "It's pretty exciting. I've only been once before. I was a lot younger and I didn't fully appreciate the significance of it," said Casey, 41, who was a losing Best Supporting Actor nominee in 2008. "There are a lot of people in the Academy. Who I admire. Denzel Washington is one of the people who taught me how to act and I've never met the man." Stone is expected to bag her first statuette in the best actress category despite a late push from Huppert, but Gosling is not expected to do the same.
White, cream and champagne quickly emerged as a red carpet favorite
with best actress nominee Isabelle Huppert, already a Golden Globe winner for edgy rape-revenge thriller
Elle
, oozing glamour in a glittering long-sleeved, floor-length Armani gown with a demure neckline. Many of the nominees had family members as their dates, with
Dev Patel
, Lucas Hedges and Lin Manuel Miranda bringing their moms and Stone stepping out with her brother Spencer, who often accompanies her to awards shows.
The Oscars is the highlight of the Hollywood stars' calendar, and wraps up two months of glittering prize galas. This awards season, the popping of champagne corks has been muted by the tense political situation in the United States. President Donald Trump's controversial (and now halted) travel ban, which led Iranian director Asghar Farhadi to opt out of attending despite a nomination for
The Salesman
, has sparked much anger. Directors of the five nominees for best foreign language film, including Farhadi, issued a statement condemning "the climate of fanaticism and nationalism" in the US.
On Sunday, several stars including nominees Ruth Negga and Lin-Manuel Miranda wore blue ribbons in support of the American Civil Liberties Union, a high-profile civil rights organization. At Saturday's Spirit Awards,
Moonlight
director Barry Jenkins and many cast members wore pins symbolizing unity, while Jenkins spoke of his disappointment over the divisions in society that the election had exposed.
The 89th Academy Awards ceremony is being currently held at the Dolby Theatre in Los Angeles, California to honor the best films of 2016.
(Except for the headline, this story has not been edited by NDTV staff and is published from a syndicated feed.)