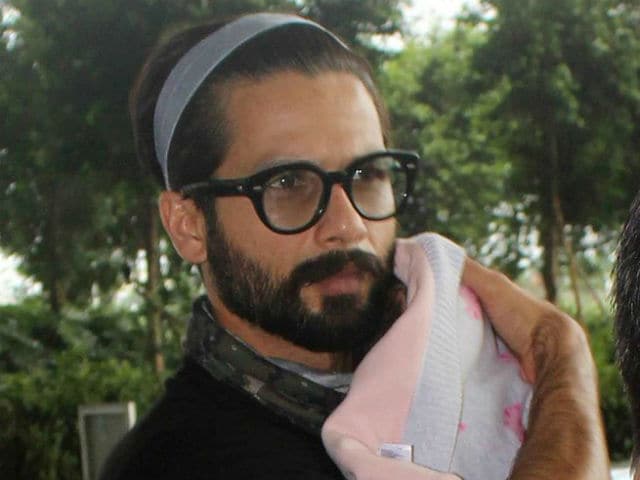 Highlights
Shahid Kapoor married Delhi girl Mira Rajput on July 7 last year
The two have a 13-year age gap
Their daughter Misha was born in August this year
Mumbai:
Actor Shahid Kapoor says he wants to be his best for his daughter Misha and wants her to be proud of him.
The actor and his wife Mira Rajput
welcomed their first bundle of joy
in August. And he is enjoying every moment of fatherhood.
When asked at the Jio MAMI 18th Mumbai Film Festival what it's like coming back to his wife and a baby, the 35-year-old actor said, "I don't want to leave. I guess a man who is a father will understand. It can't be defined. It gives you a lot of strength. I feel strong because I want to fight for Misha and be my best for her. I want to be better every day because I want her to be proud of me."
When asked if being a husband and father had any impact on acting, he said, "I am hardly working. I guess the first thing that happened to me was going jobless. I don't know if it has changed me as an actor, but it has changed me as person.
I understand priorities in my life
. I understand what I want to give my time to. When you are single, there are so many things that you can do. I was living alone for more than 10 years. So, everything was possible. I was master of my own will."
"And that kind of changes. In the beginning, it is really difficult. You feel like 'Oh my God! I can't do what I want to do anymore', and then later you feel it's awesome. I feel happy to come back home and share my happiness," said the actor.
The couple, who have over a ten-year age gap, tied the knot in New Delhi on July 7 last year.
Shahid, who once dated actress Kareena Kapoor (now married to actor Saif Ali Khan), had an important wedding clause: Not to get hitched to someone from the same industry.
"I am an actor. I have great respect for what I do. I have been in a relationship with actresses. It's not like I had an issue with it. I just felt like it was important to find somebody who is real and normal."
"Whether you like it or not, the moment you become a celeb, you won't be able to do everything that a normal person can, and that starts limiting your exposure to everything that is real and normal."
When asked if wife Mira gives her opinion on his films, the actor said, "She is 13 years younger so, she brings in a fresh perspective. When I read a script and I can't relate to it, she looks at me and asks 'Are you insane? This is exactly
what normal people talk about
. How can you not relate to this?' She shows me a different perspective. She is strongly opinionated and honest. She gives an unadulterated and honest opinion," said Shahid.
(Except for the headline, this story has not been edited by NDTV staff and is published from a syndicated feed.)