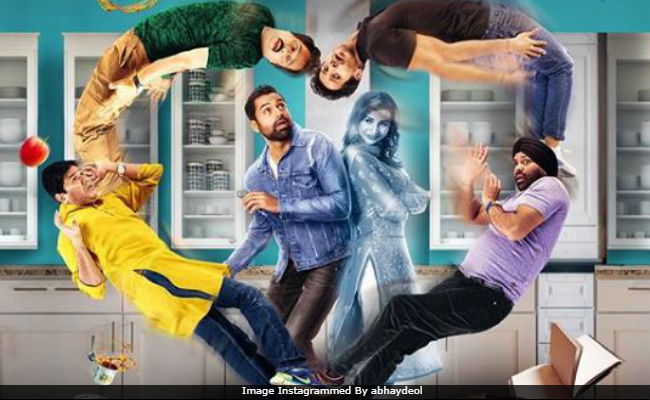 Cast: Abhay Deol, Patralekhaa, Rajesh Sharma and Himani Shivpuri

Director: Faraz Haider

Rating: 1 star (out of 5)


The spirits of two much-abused genres - horror and comedy - are given an unceremonious burial in
Nanu Ki Jaanu
, a heavy-handed jumble that is both horrific and funny, neither of which is remotely intentional. The Faraz Haider-directed film plods its way through a plot that is as bizarre as hell - a girl who dies in a road mishap turns into a ghost and haunts a conman who picked her up from a pool of blood and rushed her to a hospital - before culminating in an ice factory where the soul of the dead teaches the living a thing or two about life. Cold comfort!
Abhay Deol, in his first big-screen outing since
2016's Happy Bhag Jayegi,
looks downright unhappy as he carries the burden of this massive mess of a movie on his shoulders. It's an ungainly sight: the actor tries very hard to hold on to his sanity, but that is a tough ask in a film where the actors do not stand a ghost of a chance of rising above the wild and wobbly script.
Not just Abhay Deol,
Nanu Ki Jaanu
paints all its actors, including the talented Rajesh Sharma and Himani Shivpuri, into a corner and reduce them into a gaggle of hectoring, hollering cacklers. Patralekhaa, who is supposed to be the female lead, is fobbed off with what is worse than a walk-on part. She has to make do with a handful of scenes, hovering in the background in a hideous get-up that is aimed at scaring the hero out of his wits. He does lose his mind, but she does no more than raise a few laughs. Not her fault really: what scope does an actress playing a dead girl whose father has chosen to trap her in a huge ice slab have of 'living' her role?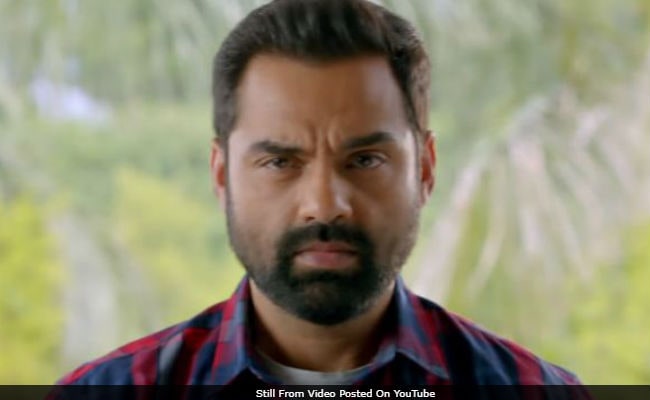 Deol plays Nanu, a tough-talking Noida criminal who loses his spunk into the fifth scene of the film. The traumatic experience of seeing a life ebbing out of a girl who has her hand in his pushes him into a depression. His gang members are baffled by the transformation. Back in his apartment, Nanu has worse to deal with. There is a ghost in his chimney. The occult has never been so odious.

The spirit, who loses no opportunity to assert that she is a benign force out to restore order in this world, is a freak who hates transgressions. She tidies up the clutter in Nanu's house every day, hides the bottle opener when the man wants to drink beer, mercilessly pummels a wife-beater and gives a burglar a run for his money when he enters Nanu's flat with the intention of cleaning it out. She is a ghost that is hard to lay to rest.

Nanu Ki Jaanu is a sloppy remake of the 2014 Tamil hit Pisaasu. Right at the outset, due acknowledgment is apportioned to Bala and Mysskin, the producer and director respectively of the original production, which had garnered reasonably good reviews. This version is no patch. Screenwriter Manu Rishi Chadha, who also plays the property shark-hero's principal accomplice, takes liberties with the plot details - in Pisaasu, the hero is a violinist left holding the dead girl's slipper; in Nanu Ki Jaanu, he is an extortionist who uses threats and subterfuge to con people out of their houses and is saddled with the accident victim's necklace. That does no good.


The film starts off as a crime drama, then veers into horror, and finally becomes a rushed whodunit as the hero and the deceased girl's distraught father (Rajesh Sharma) go looking for clues to nail the hit-and-run culprit. The search for the man responsible for the heroine's untimely demise leads Nanu and his gang to an unnamed Muslim strongman (Manoj Pahwa, who has only one scene in the film but makes it count) whose protestations allude to recent acts of lynching of suspected beef smugglers. The film isn't, however, interested in the real world: the rest of it is pure mumbo-jumbo that makes about as much sense as a box of rocks in a refrigerator.
The ghost that is meant to spook the hero takes refuge in a chimney in the titular character's apartment in a high-rise housing complex. After he has taken the initial shocks in his stride, Nanu settles into a nice, cozy relationship with the friendly spirit, and not only professes love to her and serenades her in the manner of a romantic hero. "
Tere smile ne mujhe insaan bana diya
," the hero admits to the invisible apparition. Love is indeed a chimera, but no matter what
Nanu Ki Jaanu
tries, it never becomes a film worth its name.
To ensure that the audience does not go home without any takeaways, the film doles out important messages: put away your mobile phone when you drive, always wear a helmet while riding a two-wheeler and embrace honesty as a way of life. All this is delivered in the course of a climactic exchange between the wandering spirit and her grieving father and the man who tried to save her.
At one point, Deol's character tells one of the gangsters, "
Bandh kar apni gandi
acting (Stop your bad acting)". The latter wonders aloud "
main
overacting
kar raha tha kya
(did I overact)?" You did, buddy! Sadly, that realization does not dawn on any of the other actors, possessed as they are by the ghost of the film's mediocrity.
Nanu Ki Jaanu
is about a girl who becomes a ghost and disappears into a chimney, taking the film with her into the pits. We deserve better.