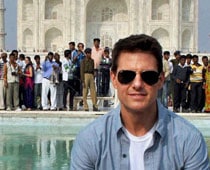 Highlights
The fourth instalment of the Tom Cruise starrer Mission: Impossible film franchise, Ghost Protocol, has topped the three-day New Year's weekend box office.
With an estimated USD 31.3 million gross according to early Sunday totals, the December 21 release is expected to surpass Sherlock Holmes: A Game of Shadows as the top-grossing December 2011 film, reported Us magazine.
Sherlock Holmes finished out the year strong, earning USD 22.1 million during the holiday haul. The animated sequel Alvin and the Chipmunks: Chipwrecked grabbed this weekend's third place spot, raking in USD 18.3 million.
Rounding out the New Year's Eve weekend top five were Warhorse (USD 16.94 million) and the Rooney Mara based-on-the-book pic The Girl With the Dragon Tattoo, which earned USD 16.8 million.''
Los Angeles:
The fourth instalment of the Tom Cruise starrer
Mission: Impossible
film franchise,
GhostProtocol
, has topped the three-day New Year's weekend box office.
With an estimated USD 31.3 million gross according to early Sunday totals, the December 21 release is expected to surpass
Sherlock Holmes: A Game of Shadows
as the top-grossing December 2011 film, reported Us magazine.
Sherlock Holmes finished out the year strong, earning USD 22.1 million during the holiday haul. The animated sequel
Alvin and the Chipmunks: Chipwrecked
grabbed this weekend's third place spot, raking in USD 18.3 million.
Rounding out the New Year's Eve weekend top five were Warhorse (USD 16.94 million) and the Rooney Mara based-on-the-book pic
The Girl With the Dragon Tattoo
, whichearned USD 16.8 million.''